Top 10 Secluded Beaches in Miami 🏖️
Posted Jul 23 2021 in Guides
Heading to Miami for some beach fun but want to explore a less touristy destination? We totally get where you're coming from. Sometimes the rush of all the crowded beaches in the city is too much and could ruin a vacay mood.
To get you away from the hustle and bustle, sail.me prepared this ultimate list with some of the best secluded beaches in Miami! That's right - there are some wonderful beaches hidden away from the tourists' eyes.
Let's explore them together!
Secluded beaches in Miami: the local gems
Matheson Hammock Park
The coastal area at Matheson Hammock Park is not a typical touristy beach, but it is well known by locals. The area is perfect for a picnic, beach BBQ, sunbathing, scenic view dining, or chill afternoon with friends and family. The park has a boat ramp and marina, so you can dock there if you like to travel by boat.
The beach park is ideal for on-the-water activities like boating, kite surfing, kayaking, paddle boarding, and swimming. Some of the park features include a lagoon pool, manmade beach, grill restaurant, outdoor rinse showers, kids fitness, and designated BBQ places. The coastal area is full of sea life, so you can head nearshore with your boat rental if you really enjoy fishing.
North Beach
North Beach is a quiet, clean, and not too crowded beach with white sand and clear water. A great place to get away from traffic and party crowds. The location is a preferred beach spot by locals with kids and pets, and you would rarely see any tourists chilling there.
The main beach amenities include nearby freshwater fountains, beach showers, changing rooms, and decent public bathrooms. There are also lifeguards during open hours (7:00 AM - 7:00 PM local time). Of course, this nontouristy spot has some downsides, as well, so sometimes the water and sand could get a bit seaweedy.
Bill Baggs Cape Florida State Park
Another local gem in Miami is the Bill Baggs Cape. The state park is definitely a must-visit, however, note that there is a small entrance fee. Once in the park, you can climb up a lighthouse, visit historical sites, eat fresh food, enjoy nature and wildlife roaming around, explore walking and cycling trails. And of course - go to the beach!
The park beach is charming and unspoiled, with sand dunes and the pretty lighthouse feature in the background. Perfect for family fun, sunbathing, and swimming. This coastal line is known for its clear blue water, however, seaweeds every now and then are also a common occurrence.
Historic Virginia Key Beach Park
Located just a few minutes from all the top tourist destinations in Miami and Key Biscayne, the Historic Virginia Key Beach Park features a long shoreline ideal for beach activities. In the park, you can explore a nature boardwalk, musical venues, and charming hammock trails. You can also find one of the world's largest sandcastles, build in 2015 and still standing.
If you like unspoiled beaches with driftwood and shells, this park might be one of the most beautiful places in the Miami area. And even though this secluded beach area is picturesque, fishing is not allowed on the park property and swimming is only allowed in designated places.
Dania beach
Dania Beach is one of the most beautiful secluded beaches in Miami. It is a narrow, quiet, and family-friendly site, that stands out with fine sand, seaweed-free waters, and cute tiki huts for visitors. Lifeguards are on duty throughout the day.
The nearby pier is open for walking and fishing enthusiasts for a small entrance fee. You can rent fishing equipment if you don't bring your own. There are also a marina and a restaurant for curious and hungry beach lovers. Alternatively, you can enjoy a great view of the Dania beach from the comfort of a boat rental or just dock your vessel nearby.
Crandon Park
Crandon Park is one of the underrated gems of Key Biscayne. There you can spend the day relaxing at one of the most gorgeous and untouristy beaches in Miami. The scenic park is also perfect for a relaxing day at the beach, or a BBQ getaway with friends and family.
On-site, there are designated areas to enjoy sports like volleyball, golf, and tennis, as well as jogging trails, biking trails, and more. Visitors share they often spot wildlife on land (iguanas, birds, etc) and near the beach (dolphins, manatees, etc). So if you enjoy a cool breeze, sugary sand, palms, and clean waters - Crandon Park should be on your list.
Hollywood North Beach Park
With a long sandy shoreline and a beautiful clean beach, this parkland on our list as one of the top secluded beaches in Miami. The wide boardwalk in Hollywood North Beach Park is rarely overcrowded, which is a great opportunity to enjoy walking, skating, biking, or even jogging.
The palmy beachline is pet-friendly and within a short walk of numerous restaurants and cafes. Amenities on the beach include lifeguard stations, restrooms, changing rooms, and outdoor showers. So if you plan on having a relaxing and quiet beach day for free, Hollywood North Beach Park is the place to be.
Von D. Mizell and Eula Johnson State Park
Located south of Port Everglades, this wonderful park is home to one of the most scenic secluded beaches in Miami and is easily accessible by boat. There you can dive at a man-made reef and see the abundance of sea life underwater.
If you enjoy watersports and want to spice up your Miami vacation, there are paddle boards, kayaks, and canoes available for rent on the beach. At Von D. Mizell and Eula Johnson State Park, you can also find established picturesque nature trails, boat ramps, pavilions, picnic, and grill areas.
North Shore Open Space Park
North Shore Open Space Park stuns with the perfect balance of urban and nature. The place accommodates lots of green areas and a huge and clean beach strip. A perfect destination for families with children.
Relax on the tranquil beach area, surrounded by subtropical greenery and the calm deep blue waters of the Atlantic. In the park, you can also have outdoor recreation and fun - chill with friends, have a BBQ afternoon, go for a walk, or enjoy biking and rollerblading on the walkways.
South Beach
Even though South Beach is way more crowded than the rest of the Miami beaches on this list, it is still not a big tourist attraction. It is like an infamous hotspot for all kinds of on-shore activities. From boating and water sports to sunbathing and swimming, South Beach has something for everyone.
On the main strip, there are many restaurants, shops, bars, and hotels nearby, so you can definitely feel the Miami vibe on the beach but without all the overwhelming tourist hassle. The fine sand beach itself is long and wide, the water is clear and you can enjoy all kinds of beach activities.
Are you going to explore any of these secluded beaches on your next visit to Miami? Book a boat with sail.me to make a beach-hopping trip of a lifetime.
You might also like
The best boating guide with friends
Jan 18 2022Guides
Choosing the perfect boat rental is key to an unforgettable sailing holiday with friends. Follow our sail.me guide to make the wisest decision and make the most of your boating adventure!
read full post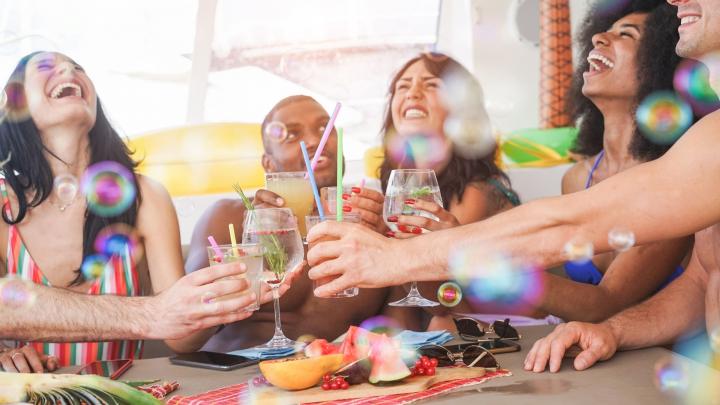 Best Places to Boat in Miami
Jan 03 2022Guides
Looking for the best places to go boating in Miami? Stay around, sail.me is going to guide you through all the top Miami locations worth visiting by boat. There is something to do for everyone's taste - shopping, dining, sightseeing, partying, wildlife watching, diving, fishing… and you barely have to leave your boat!
read full post
The best snorkeling spots in Miami
Dec 16 2021Guides
Visitors from all across the globe go to Miami to savor the nightlife and enjoy boating experiences such as fishing, exploring hidden beaches, isle hopping, water sports, and of course - snorkeling.
read full post