Top 10 Secluded Beaches in Miami 🏖️
Posted Jun 22 2022 in Guides
Heading to Miami for some beach fun but want to explore a less touristy destination? We totally get where you're coming from. Sometimes the rush of all the crowded beaches in the city is too much and could ruin a vacay mood.
Whether you're visiting Miami Beach or are a resident, one of the great perks of living on this tropical island is that there is no shortage of gorgeous beaches to sunbathe, swim and surf. While certain beaches along our coast have exploded in popularity and become more like resorts than locations where locals hang out, there are still some rather secluded pockets for those who want their space.
Secluded beaches in Miami for you to enjoy
Matheson Hammock Park Beach
North Beach - Miami
Bill Baggs Cape Florida State Park
Virginia Key Beach Park
Dania beach
Crandon Park
Hollywood North Beach Park
Von D. Mizell and Eula Johnson State Park
North Shore Open Space Park
South Beach Miami
Matheson Hammock Park Beach
The coastal area at Matheson Hammock Park is not a typical touristy beach, but it is well known by locals. The area is perfect for a picnic, beach BBQ, sunbathing, scenic view dining, or a chill afternoon with friends and family. The park has a boat ramp and marina, so you can dock there if you like to travel by boat.
The beach park is ideal for on-the-water activities like boating, kite surfing, kayaking, paddle boarding, and swimming. Some of the park features include a lagoon pool, manmade beach, grill restaurant, outdoor rinse showers, kids fitness, and designated BBQ places. The coastal area is full of sea life, so you can head nearshore with your boat rental if you really enjoy fishing.
Daily rentals are available at The Matheson Hammock Marina. A variety of canoes, kayaks, and paddleboards are available to rent by the hour, half-day, or full-day. The Matheson Hammock Marina is operated by Matheson Hammock Park and is open daily from 8 a.m. to 5 p.m., with office hours from 8 a.m. to 4 p.m.
How to get to Matheson Hammock Park Beach?
If you are coming from the East, take I-295 Exit W. If you are going south, take exit 6 to US1 (South Dixie) Road. In about 4 miles, follow the signs for SW Flagler Street. Go about 1 mile and turn right on SW 88th Street. The entrance to the park is straight ahead on the right side of SW 88th Street. Follow park road to the end and then turn left into the park. If you are coming from the West, take exit 6 to US1 (South Dixie) Road. Follow the above directions from the East.
North Beach - Miami
North Beach is a local's spot. It's a wide beach with shallow water and soft, clean sand. It offers good swimming, and the beach is quiet with less tourist traffic. Kids, dogs, and locals like it for its convenience and quietness. The parking lot can fill up at peak times such as hot sunny days or weekends so arrive early if you want to secure a parking space. The main beach amenities include nearby freshwater fountains, beach showers, changing rooms, and decent public bathrooms. There are also lifeguards during open hours (7:00 AM - 7:00 PM local time). Of course, this nontouristy spot has some downsides, as well, so sometimes the water and sand could get a bit seaweedy.
North Beach is located right next to the Port of Miami, so if you're looking for some peace and quiet while still being close enough to downtown Miami, this would be the perfect spot!
There are plenty of parking spaces near the beach, so don't worry about finding a spot there on busy days during summertime. There are also picnic tables with umbrellas at both ends of North Beach if you prefer having shade while enjoying your meal/drink in between swimming sessions.
The water quality at North Beach is excellent due to its close proximity to Biscayne Bay. However, you might want to avoid swimming during high tide since it gets pretty choppy during those times due to strong currents (which can be dangerous).
Are dogs allowed at North Beach - Miami?
It's not officially a dog-friendly beach but dog owners are allowed in if they are leashed and clean up after their dogs.
Bill Baggs Cape Florida State Park
Another local gem in Miami is the Bill Baggs Cape. The state park is definitely a must-visit, however, note that there is a small entrance fee. Once in the park, you can climb up a lighthouse, visit historical sites, eat fresh food, enjoy nature and wildlife roaming around, and explore walking and cycling trails. And of course - go to the beach!
The park beach is charming and unspoiled, with sand dunes and a pretty lighthouse feature in the background. Perfect for family fun, sunbathing, and swimming. This coastal line is known for its clear blue water, however, seaweeds every now and then are also a common occurrence.
What is the admission price for Bill Baggs Cape Florida State Park?
The cost of admission into this park is $2 per carload of people.
How to get there?
You can reach this location by taking I-95 southbound until you reach exit 10A then turn left onto International Drive. From there follow signs for "Cape Florida State Park" until you reach US 1 which will lead directly to the park entrance.
Virginia Key Beach Park
Located just a few minutes from all the top tourist destinations in Miami and Key Biscayne, the Virginia Key Beach Park features a long shoreline ideal for beach activities. In the park, you can explore a nature boardwalk, musical venues, and charming hammock trails. You can also find one of the world's largest sandcastles, build in 2015 and still standing.
If you like unspoiled beaches with driftwood and shells, this park might be one of the most beautiful places in the Miami area. And even though this secluded beach area is picturesque, fishing is not allowed on the park property and swimming is only allowed in designated places.
The park has its own lifeguard tower and restrooms. There is also plenty of parking available on site.
The cost for entry into Virginia Key Beach Park is $1 per person on weekdays and $2 per person on weekends (children under 12 are free). The fee is waived if you have an annual pass for Miami-Dade County Parks or if you have an America the Beautiful Interagency Pass that covers all federal lands (including national parks).
Virginia Key beach park opens from 9:00 am until 5:00 pm.
There are plenty of places to eat nearby too if you get hungry or thirsty. A short drive will take you to several great restaurants where you can get some good grub and drinks, or try something new!
Virginia Key Beach Park is located right next door to Miami Seaquarium which makes it easy to kill two birds with one stone so to speak.
Dania beach
Dania Beach is one of the most beautiful secluded beaches in Miami. It is a narrow, quiet, and family-friendly site, that stands out with fine sand, seaweed-free waters, and cute tiki huts for visitors. Lifeguards are on duty throughout the day.
If you are looking for something fun to do while you are at the beach, there are plenty of activities available. You can rent jet skis, parasails,s or go on a dolphin cruise. If you want to try something different, take a ride on an electric bike or surfboard. If you're going to just relax with your family or friends, there are also a marina and a restaurant for curious and hungry beach lovers. Alternatively, you can enjoy a great view of the Dania beach from the comfort of a boat rental or just dock your vessel nearby.
Dania Beach is located at:
2100 North Ocean Drive Dania Beach, FL 33004
The best way to get there is by car. Parking can be difficult during busy times of the day. If you don't want to drive yourself, there are many taxi companies in the area that will take you there for a fee.
Crandon Park
Crandon Park is one of the underrated gems of Key Biscayne. There you can spend the day relaxing at one of the most gorgeous and untouristy beaches in Miami. The scenic park is also perfect for a relaxing day at the beach, or a BBQ getaway with friends and family.
On-site, there are designated areas to enjoy sports like volleyball, golf, and tennis, as well as jogging trails, biking trails, and more. Visitors share they often spot wildlife on land (iguanas, birds, etc) and near the beach (dolphins, manatees, etc). So if you enjoy a cool breeze, sugary sand, palms, and clean waters - Crandon Park should be on your list.
You'll find plenty of places to eat nearby too including restaurants like Jugos & Samba Juice Bar which offers fresh juices made right in front of you! If you're looking for something more casual there's always McDonald's or Subway located within walking distance from here too - both are located off Bird Road & North Bayshore Drive on Red Roadway between SW 139th Avenue & SW 144th Avenue.
The beach features a paved path that leads to the main entrance and parking lot. There are restrooms and concession stands at the park as well. This beach is great for swimming, but it does not have lifeguards on duty so you must be careful near the water's edge when swimming or surfing.
Is Crandon Park free?
Yes, you can walk onto Crandon Park's gorgeous sand for free. There are a few exceptions to this rule, but in general, you don't have to pay any admission fee to enjoy Crandon Park.
There are also other things that make Crandon Park different from other beaches. For example, it has an off-leash dog beach where you can bring your pup and let him run free without a leash! You can also rent paddleboards and kayaks here for only $5 per hour (or $20 for the day).
Hollywood North Beach Park
With a long sandy shoreline and a beautiful clean beach, this parkland is on our list as one of the top secluded beaches in Miami. The wide boardwalk in Hollywood North Beach Park is rarely overcrowded, which is a great opportunity to enjoy walking, skating, biking, or even jogging.
The palmy beachline is pet-friendly and within a short walk of numerous restaurants and cafes. Amenities on the beach include lifeguard stations, restrooms, changing rooms, and outdoor showers. So if you plan on having a relaxing and quiet beach day for free, Hollywood North Beach Park is the place to be.
If you want to swim at this park, there is no fee and you can access the beach from the parking lot or off of A1A. A parking fee of $1.50 per hour is required and there are plenty of parking spaces available. There are lifeguards on duty during the summer months who enforce swimming rules and regulations.
When does Hollywood North Beach Park open?
The park is open from sunrise to sunset every day of the year except Christmas Day and some holidays. There's no fee to enter, but there is an admission charge for children 12 years old and younger. The cost is $1 per child up to age 5, and $2 per child 6 years old and older.
Von D. Mizell and Eula Johnson State Park
Von D. Mizell and Eula Johnson State Park is a great place to go if you want to get away from the hustle and bustle of the city. Located in Tallahassee, Florida, this park has plenty of things to do and see.
The park has over five miles of trails for hiking or walking dogs, as well as picnic areas so that you can enjoy lunch in peace. The park also has an interpretive center where you can learn more about the history of the area.
The park is open from 8:00am-sunset on weekdays and 9:00am-sunset on weekends. There is no admission fee for entry into the park but some amenities such as campgrounds require a fee. Dogs are allowed on leashes only at Von D. Mizell & Eula Johnson State Park!
North Shore Open Space Park
North Shore Open Space Park stuns with the perfect balance of urban and nature. The place accommodates lots of green areas and a huge and clean beach strip. A perfect destination for families with children.
Relax on the tranquil beach area, surrounded by subtropical greenery and the calm deep blue waters of the Atlantic. In the park, you can also have outdoor recreation and fun - chill with friends, have a BBQ afternoon, go for a walk, or enjoy rollerblading on the walkways.
The park is convenient for strolling and exploring. You can watch the turtles swim by in their aquariums or check out the many sculptures that dot the landscape. There are also plenty of paths for biking or running and an area set aside for volleyball. If you're looking for something more active, there are tennis courts available by reservation only and even a skateboard park.
Pricing at North Shore Open Space Park
The park is free and open to the public year-round between sunrise and sunset. There are no fees or permits required to visit this park. Dogs are allowed on leashes (no retractable leashes).
Miami South Beach
Even though South Beach is way more crowded than the rest of the Miami beaches on this list, it is still not a big tourist attraction. It is like an infamous hotspot for all kinds of on-shore activities. From boating and water sports to sunbathing and swimming, South Beach has something for everyone. The sand in South Beach Miami is white and fine-grained; perfect for building sandcastles! This beach is also known as "the world's most famous beach" because it has been featured in countless movies, TV shows, and music videos over the years.
On the main strip, there are many restaurants, shops, bars, and hotels nearby, so you can definitely feel the Miami vibe on the beach but without all the overwhelming tourist hassle. The fine sand beach itself is long and wide, the water is clear and you can enjoy all kinds of beach activities.
The best part of South Beach Miami is that it's a dog-friendly community. Although it's not the kind of place where dogs run free (you'll still see lots of leashes), it's an area where you can bring your canine companion along for the ride.
There are many things to do in South Beach Miami including:
Are you going to explore any of these secluded beaches on your next visit to Miami? Book a boat with sail.me to make a beach-hopping trip of a lifetime.
You might also like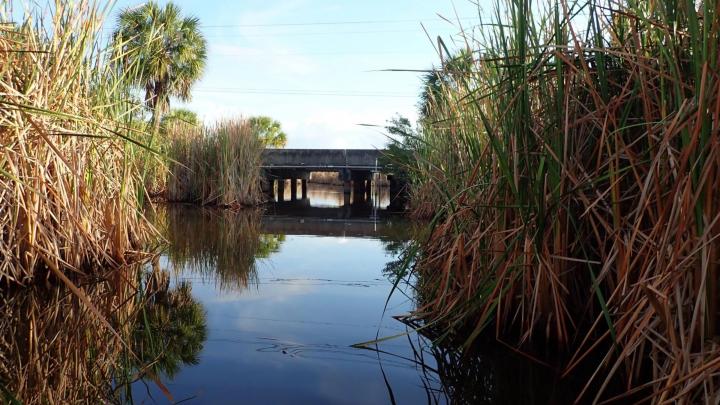 Fishing in Tamiami Canal, FL
Sep 19 2022Guides
Tamiami Canal Florida is considered the best fishing spot in Florida. If you are a fisherman it will not disappoint. It is very popular among local anglers. If you love nature and want to go fishing in the heart of South Florida then this is the perfect place for you.
read full post
7 Best Fishing Spots in Miami
Sep 20 2022Boating tips, Guides
Check out these 7 best fishing spots in Miami. Locations if you don't have a boat, for surf fishing, freshwater spots, and ones off Miami beach
read full post
Miami Bachelorette Party Boat Guide: All You Need To Know
Jul 14 2022Guides
Our Miami bachelorette party boat guide covers all you need to know, from boat rental to the types of boats, what you need to take, budget costs & more!
read full post