The Best Private Beaches in Florida
Posted Sep 14 2023 in Guides
The words "beaches" and "Florida" are virtually synonymous. When you think about Florida the first thing that comes to mind is beaches, sunshine, and relaxation.
Locating a secluded beach with a feel for the romantic, private beaches near you is not as hard to find as you might think. We've located some of the most secluded beaches in Florida, with the features and activities you desire. Beaches that provide a sense of seclusion and peace, as well as a few that provide fun for the whole family for a delightful and robust afternoon.
Visiting these beautiful hidden beaches provides you and your family with relaxation, helps you find peace of mind and even a little exercise. If you enjoy swimming, sunbathing, bicycling, birding, fishing, camping, hiking, boating, or just viewing wildlife and spectacular sunsets, there are many Florida beaches that are off the beaten track and quite private. Here, you'll find a list of very special places in the sun, Florida beaches that are less traveled, and provide something for everyone.
What are the best private secluded beaches in Florida? Here's our top 23 list:
Seaside Beach
The beach at Seaside, FL is wide with bleached white sugar sand and calm, soothing surf. Perfect for a peaceful evening walk or a day lounging under an umbrella making sandcastles with the kids. It is a bit less well known than its neighbor, Vero Beach, and for this reason, it is not as busy, but just as lovely. If you're visiting the attractions at Disney in Orlando or the charming small town of Seaside, FL, and all its attractions, then Seaside beach is the closest public beach near you.
Why is Seaside so popular?
The town of Seaside, Florida is one of the most charming small towns in America with its extraordinary picturesque architecture painted in pastel hues, beautiful weather, quaint small shops, restaurants, and pet-friendly housing.
Other things to do on the beach
This is a splendid beach for swimming, snorkeling, and beach walks at the water's edge as you watch the dune grasses wave in the breeze. Or enjoy a quiet day sunbathing and reading this summer's New York Times top 10 bestsellers.
Restaurants / Bars on the beach or nearby Seaside Beach
When it's time for lunch or dinner make sure to check out - The Meltdown on Rt. 30A, the Raw & Juicy Organic Cafe, Barefoot BBQ, Sunset Bay Cafe, or Bud & Alley's Waterfront Restaurant & Bar.
St. George Island
The 22-mile-long beach on the island of St. George is located on the northern Gulf of Mexico, off the Florida Panhandle. It is one of the last unspoiled barrier islands of Florida, with miles of wide, uncrowded, expansive white sand beaches. Because the island has no big-name hotels, it remains low-key and relaxing and is popular for fishing and birding in and around its salt marshes.
Is St. George Island fishing-friendly?
The beach is serene and unspoiled and is known as every fisherman and fisherwoman's paradise. St. George Island's beach is perfect for fishing, swimming, paddling, and shelling in the clear Gulf waters, or just relaxing on a beach blanket under a beach umbrella and taking in the view.
Things to do with your family at St.George Island
You can explore the island by renting a bicycle or scooter, visit the impressive Cape St. George lighthouse or St. George State Park, or rent a kayak at the Park to find a private beach near you while enjoying the extraordinary sunsets over the Gulf of Mexico.
Make sure to bring your pooch, as the beach is one of the few fully pet-friendly beaches on the Gulf.
Restaurants / Bars on the beach or nearby
When you get hungry, be sure to check out the Blue Parrot Ocean Front Café, Mango Mike's Sports Bar and Grille, and Aunt Ebby's Ice Cream for dessert.
Shell Island
Shell Island is a peaceful barrier island located across from St. Andrews State Park and remains a pristine Florida coastline for beach lovers and outdoor adventurers. The Island has miles of sandy coastline that is often rated as America's best romantic secluded beaches in Florida. The island and State Park are known for boating, swimming, boating, fishing, birding, hiking, and wildlife watching.
How can I reach Shell Island?
You can reach Shell Island via your own craft, by renting a boat from sail.me, we offer hundreds of affordable boat rentals all over Florida or by renting from St. Andrews State Park. Or you can ride over on the Shell Island Shuttle or the PCB Shell Island Express Ferry. Shell Island is one of the top Islands in Florida to reach by boat.
Things to do on Shell Island:
Snorkeling is excellent around St. Andrews State Park jetty and on Shell Island. You will see tropical fish, crabs, rays, and sometimes a sea turtle or the resident bottlenose dolphins. Dolphin tours, boat rentals, and snorkeling are easy to find and arrange as well as excellent biking, and hiking trails.
Greyton Beach State Park
Located on the Gulf of Mexico where the water is emerald green and the sun is high, Greyton Beach State Park offers campsites and rustic cabins. The park has over 4 miles of hiking trails through coastal forest, has excellent birding, and over 2000 acres. Western Lake offers fishing and paddling nestled between its coastal dunes. The closest public beach near you is Greyton Beach which continues to rank as one of the most beautiful beaches in the United States.
Is Grayton Beach State Park free?
Yes, it is free! Recently the Florida DEP Division of Recreation and Parks suspended the day-use fees visitors pay to visit Grayton Beach State Park and Topsail Hill Preserve State Park between Memorial Day and Labor Day. Another great reason to visit!
However, there are some fees applied if you decide to camp or enter with your vehicle.
Is Grayton Beach private?
The public beach is between the Okaloosa County line east of Grayton Beach State Park. The beaches at the State Park are not as busy as Grayton Beach and are recommended if you are seeking more privacy and open space.
Perdido Key Beach
Perdido Key Beach is one of the last remaining untouched pieces of wilderness off the Northwest Panhandle of Florida. In many places, it is no more than two hundred yards wide. It is 16 miles long, and more than half of the key is Federal or State Parkland. It boasts soft, sugary white beaches and clear blue waters. Perdido Key is located in the Northwest Panhandle of Florida, between Pensacola, Florida, and Orange Beach, Alabama.
Is Perdido Key beach crowded?
If you're looking for a quiet and peaceful area with more privacy, then the mile-long stretch of beach at Perdido Key State Park is the area for you. Perdido Key Beach is also pretty and quiet and you don't need to worry about the crowds. You can walk the beach for hours and all of the walking trails are dog friendly with great fishing on the wide-open sand beaches.
Can you surf in Perdido Key?
The answer is a resounding YES! Surfing is popular on Florida's northwest Gulf coast at Perdido Key, surfers seek out the waves known as the "The Bungalows".
Apollo Beach Preserve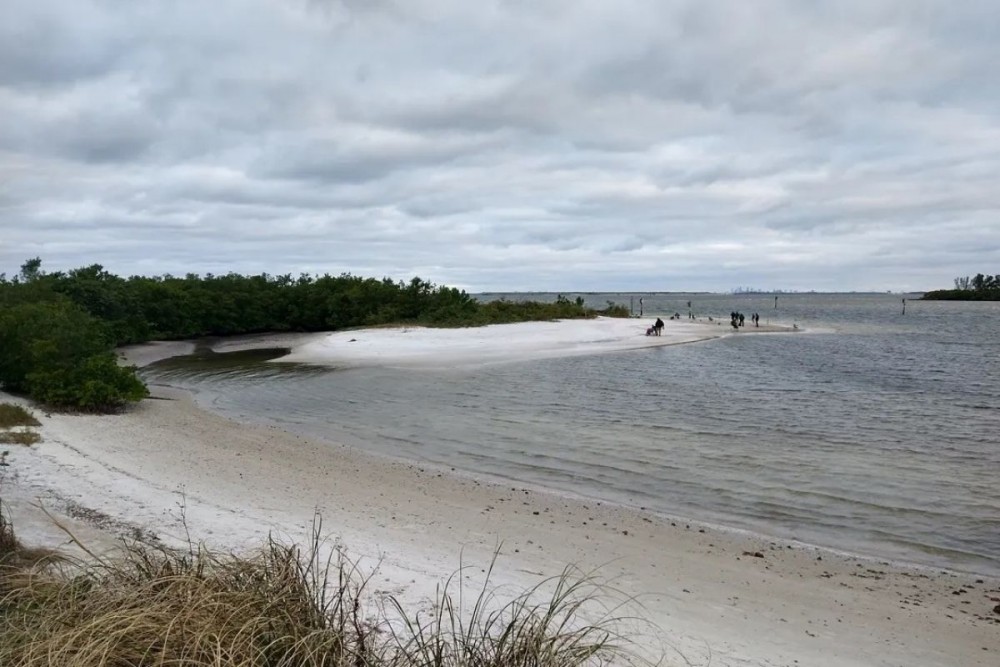 The Apollo Beach Nature Preserve has 63 acres, many nature trails, and is known for excellent shoreline fishing. It is a natural habitat for many aquatic species so bring your snorkeling gear.
What is Apollo Beach Preserve known for?
The Nature Preserve is a nature preserve that serves as a habitat for a wide variety of aquatic species. It boasts a 37-foot high observation tower that is wheelchair-accessible for fantastic views of the Preserve, its natural wildlife, Tampa, and gorgeous sunsets.
Can you go swimming at Apollo Beach? 🏊‍♂️
Beautiful white sand beaches with plenty of beach areas to sunbathe, relax and exercise, however, swimming is not allowed due to its proximity to the Tampa Power Plant located across Tampa bay.
Does Apollo Beach have an actual beach?
Yes, it does! Apollo Beach is a 2-acre sandy beach that is dog-friendly and is a popular birdwatching and sunset spot, and for your convenience it has restrooms.
St. Joseph Penisula State Park Beach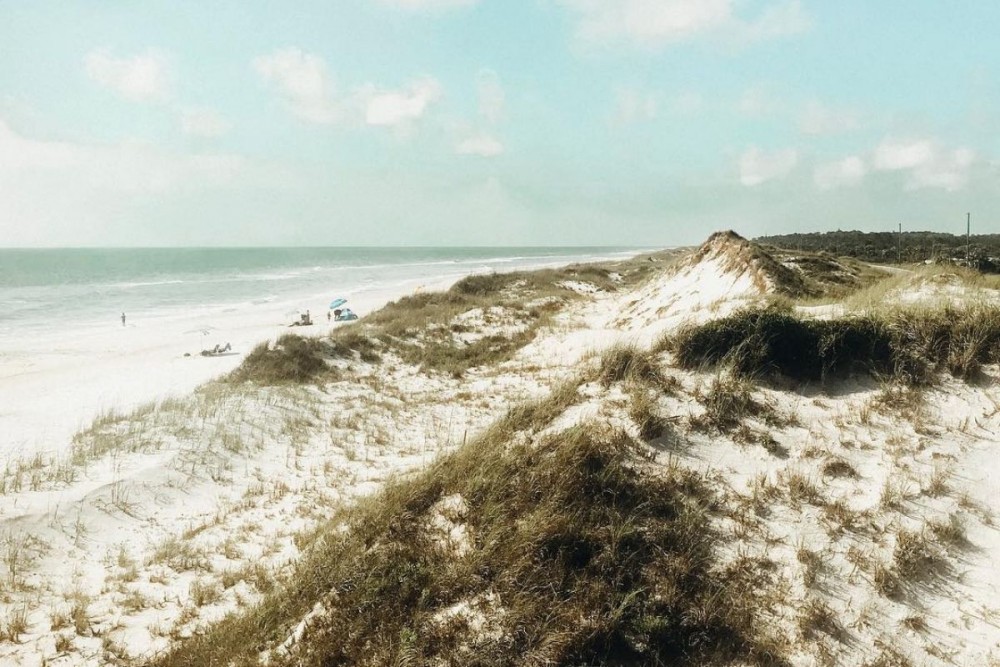 Known as a wildlife haven, St. Joseph Penisula stretches 20 miles into the Gulf of Mexico with 10 miles of private beaches. It is home to three species of sea turtles and a natural habitat for many species of birds. Wade into the shallow reedy coastline for world-class fishing, camping with showers is available, as are swimming, paddling, snorkeling, renting a boat, and much more. The State Park is ideal for exploring the sand dunes, relaxing on the Gulf Coast, and watching extraordinary sunsets.
When is St Joe's State Park open?
The park is open Thursday through Sunday from 7 a.m. to 8 p.m. and from 7 a.m. to 5 p.m. November through March. There is ample parking, restrooms, and access to paved bicycle trails. Online permits are required to use the entrance into the ORV area.
How much does Peninsula State Park cost?
Daily passes cost $8 and are available at the park. Peninsula State Park is at 8899 Cape San Blas Road, Port St. Joe, FL 32456. For more information on all Florida State Parks and beaches click here.
Are dogs allowed at St Joe State Park Beach?
Yes, dogs are allowed on all park trails and the beach is dog friendly. They must be leashed at all times and cleaned up after. Owners are responsible for any damage or injury caused by their pets.
Cape San Blas
Cape San Blas is a vacationer's dream come true because it is not touristy and you can truly relax on this quiet beach without crowds even during peak season. The beaches here are consistently rated in the top 10 beaches in the US and are beautiful and peaceful, you will find long stretches of bleached white sugar sand to yourself.
Can you swim in Cape San Blas?
There is great swimming at Cape San Blas as well and kayak and canoe rental shops that have everything to enjoy a day of boating on St. Joseph Bay. Happy Ours also offers paddleboard and kayak rentals and guided snorkeling trips.
Is Cape San Blas beach dog friendly?
The beaches at Cape San Blas are dog friendly, dogs are allowed on the beaches however they must be leashed at all times and you are required to pick up after your dog. Since leashes are required we suggest attaching a long extension so your furry best friend can romp for endless hours in the surf and sand!
Blue Mountain Beach
What is Blue Mountain beach known for?
Blue Mountian Beach is truly unique and is a natural wonder, it gets its name from the brilliant blue lupine flowers that grow in its sand dunes. Additionally, the beach has the highest elevation on the entire Florida Gulf Coast which provides marvelous views of the Emerald Coast. Don't miss the three coastal dune lakes located within Blue Mountian Beach, they are all great for fishing and kayaking. There are endless ways to enjoy this hidden beach and its natural wonders, it is yours for the taking!
What city is Blue Mountain beach in?
Blue Mountain Beach is known as South Waltons low key treasure. It is in the middle of SoWal on Scenic Route 30A. If you drive through Blue Mountain on winding Scenic 30A between Grayton Beach to the east and Santa Rosa Beach to the west, you could miss it but be sure not to.
Are there good places to eat near Blue Mountian Beach?
Stop by Johnny McTighe's Irish Pub and eat with the locals, right next door is Sally's By The Sea Store which is a favorite for burgers and fried chicken. If you head west towards Gulf Place you'll find Basmati's Restaurant on Draper Lake, for great sushi and Pan-Asian food.
Santa Rosa Beach
Santa Rosa Beach is located along a 26-mile stretch of Florida's popular Emerald Coast in South Walton County. It is one of 16 beach neighborhoods in the County. Santa Rosa Beach offers luxury private beach house rentals near the beach and upscale dining. Make sure you don't miss the Gulf Place artist colony. Santa Rosa Beach has entrances to Point Washington State Forest which is a 15,000-acre natural preserve.
Where do you fly to reach South Walton County and Santa Rosa Beach?
The nearest airport to Santa Rosa Beach is ValparaisoAirport (VPS) is 22 miles away. Other nearby airports include Panama City (ECP) (26 miles), Pensacola (PNS) (59 miles), Tallahassee (TLH) (113 miles), and Mobile, AL (MOB) (122.8 miles). Santa Rosa Beach, FL to Destin, FL is 18 miles or 29 kilometers.
What is Santa Rosa Beach known for?
Aside from the abundant high-end beach houses, great dining, and its proximity to Port Washington State Forest. The beach is renowned for its sugar-sand beaches and turquoise water. It was voted one of the "Best Beaches on Earth" for families in Travel & Leisure magazine.
Readington Beach and Readington Shores
If you're looking for private beaches near Clearwater, FL, Readington Beach, and North Readington Beach are very under the radar. Located between Madeira Beach and Indian Shores, these two beach communities make up over a mile of broad beachfront with gorgeous emerald Gulf waters. These two quiet beaches never draw crowds and these towns have some great restaurants, bars, coffee shops, and cafes like Sweet Sage Cafe and Boutique for great breakfasts and lunches and Shubee Shack for lunch and take-out dinner.
Can you drink alcohol on Redington Beach?
Drinking alcohol on Redington Beach is allowed but glass is not. Drinking is prohibited on the neighboring beaches of Redington Shores and North Redington Beach.
Is Redington Beach free?
Beach access is free and it's a favorite of locals, it is a very beautiful walk on the shore and has very nice shelling.
What does Redington Beach look like?
Redington Beach has pure white quartz sand. Swimming is available on either side of a centered breakwater. Redington Shores Public Beach Access is right across the street from the Friendly Tavern, which is located on Gulf Boulevard and has outdoor and indoor cafe tables overlooking the gulf.
Sandestin Beach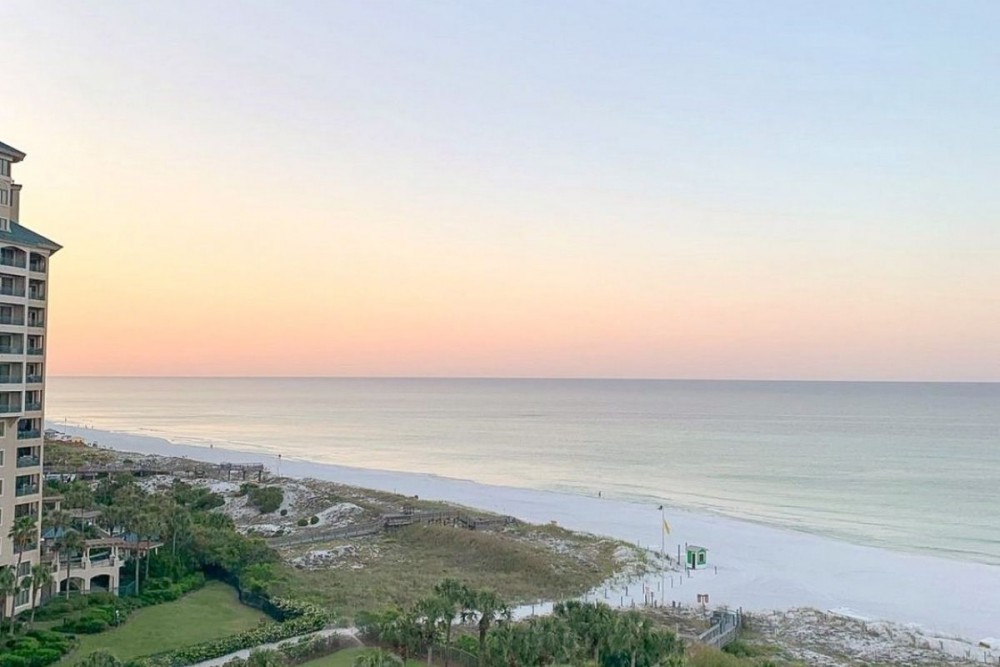 Is Sandestin a private beach?
Sandestin Beach is not a very secluded or private beach but it does have miles of white sand beaches with lots to do nearby. You can also find many beachy activities like kayaking, volleyball, or even going deep-sea fishing. The area is popular for its beautiful coastline and beaches and is also known for its upscale resorts, high-end restaurants, and golfing. If you're looking for the closest public beach near you in Destin, this is it.
What's the difference between Destin and Sandestin?
Sandestin is a town outside the town of Destin. If you are looking for a private beach club nearby Destin, The Sandestin Gulf and Beach Resort is a large, popular resort in Sandestin with plenty to do including world-class golfing. Destin has a greater variety of activities and restaurants than the resort. Destin is usually very busy with tourists and traffic which makes Sandestin a more attractive option.
How far are Sandestin Gulf and Beach Resort from the beach?
The resort is a 15-minute walk from the beach. Sandestin Golf and Beach Resort is actually in Miramar Beach, FL, which is about ten miles west of Destin.
Belleair Beach
Bellair Beach is a quiet beach near Clearwater, FL, and sits on a barrier island. Belleair Beach offers miles of pure white sand beaches ideal for swimming, strolling, shelling, and exploring. Belleair Beach is one of the last strictly residential beaches in Pinellas County.
Is Belleair Beach nice?
Belleair Beach is a lovely little community just south of the hustle and bustle of Clearwater Beach. It is very conveniently located just close enough to activities but isolated enough that it feels like a residential area. The beaches are clean and well kept and the neighbors are friendly.
Is Belleair Beach private?
Belleair Beach is not a private, secluded beach but it is a long, beautiful residential beach. Many entrances are private for residents only. The Morgan Park entrance is the only Public Access Park, it has metered parking and residents can park for free.
Cayo Costa State Park, Pine Island
Cayo Costa can only be accessed by boat or kayak, the island is completely undeveloped and is truly a secluded, private beach. It has nine miles of unspoiled shoreline which is perfect for swimming, fishing, birdwatching, and snorkeling. Enjoy the dunes, the wildlife, and the feeling of being in a natural wonderland. Camping is allowed in designated sites in Cayo Costa State Park, cabins are available too.
How do I get from Pine Island to Cayo Costa?
The closest ferry to Cayo Costa is Tropic Star Cruises on Pine Island. It is located on the tip of the island. Captiva Cruises also offers transportation to the island from beautiful Captiva Island. There are several other ferries to the island and they can be found here.
Is Cayo Costa worth visiting?
Looking for one of the best private beaches in Florida? Look no further - Cayo Costa is one of the best secluded beaches near Fort Myers, FL. It is a very large barrier island completely undeveloped and only accessible by boat or ferry. It is a long trek to get to but worth the time to schedule the ferry and wait for departure and return.
Can you dock at Cayo Costa?
You can dock your boat or kayak on the bayside at the entrance to Cayo Costa State Park, just look for the area designated for docking. You can also drop anchor just offshore on the bayside too. Of course, you can also rent or charter a sailboat or yacht on sail.me and make one of your stops Cayo Costa during your Florida charter!
St. Lucie Inlet Preserve State Park
St. Lucie Inlet Preserve State Park is another hidden beach that is only accessible by boat which makes the glorious beaches there one of the best private beaches in Florida and a delight to visit. For visitors interested in exploring the island there is a wide meandering boardwalk that winds through live oak groves, mangrove forests, and cabbage palms ending at the pristine Atlantic beach. When you visit here the beach is great for sunbathing, swimming, and picnicking at the pavilion. Scuba diving and surf fishing are very popular here.
How do I get to St. Lucie Inlet Preserve State Park?
You can only get there by boat! The State Park is located at the northern tip of a barrier island about a half-hour north of West Palm Beach. It is one of the last uninhabited islands on the east coast of Florida. St. Lucie Inlet Preserve State Park is ideal for those seeking out privacy and an island feel. Visitors can travel by motorboat or kayak and admission is only $3 per boat and $2 per canoe/kayak.
Can I find turtles in the park?
There are other visitors to St. Lucie Inlet Preserve State Park that love the beach - loggerhead, leatherback, and green turtles! The beach here is a natural nesting habitat for these turtles, between the months of March and October they come ashore at night to make over 1000 nests on the beach. Just think of the number of baby turtles this natural habitat creates annually!
When is the best time to visit St. Lucie Inlet Preserve State Park?
Any time of year is a good time to visit, the park is open 365 days a year from 8 am until sundown. When you seeking out secluded beaches near you this is a perfect choice. Be sure to take note of the visitation information.
Clam Pass Park, Naples
While Clam Pass Park beach is not secluded or private, it is a gorgeous, family-friendly beach with soft white sand. We chose to list this as Naples is a very popular destination in Florida and it's a great beach! Swimming is great in the calm waters here and it is one of the most popular beaches in the Naples, Florida area. Kids of all ages will enjoy the wooden half-mile boardwalk tram ride through a mangrove forest, viewing marine life, coastal birds, and butterflies, and finally reaching the 3,200-foot stretch of sandy beach. If you want to learn more about nature in the area The Conservancy of Southwest Florida provides guided nature walks Monday through Saturday, December to April at 9 am.
How much is parking at Clam Pass?
Parking is $10 per vehicle (2022 rates) with 171 parking spaces. Beach parking permits are available from the city of Naples or Collier County.
Can you fish at Clam Pass Park?
Clam Pass is in northern Naples and fishing is allowed. You can typically catch Common Snook, Red Drum, and Largemouth Bass. 253 catches are logged on Fishbrain. Make sure you follow local regulations and use your best judgment when determining where you can fish.
Are dogs allowed on Clam Pass beach?
Clam Pass Beach is not pet friendly, dogs are not allowed on any Naples beaches. At Delnor Wiggins State Park further north of Naples, your dogs can be with you in the picnic area but are not allowed on the beach.
Barefoot Beach Preserve, Bonita Springs
Billed as the 'second-best beach in America', this Preserve has a very desirable secluded beach on Florida's southwest coast. Barefoot Beach Preserve is one of the last undeveloped barrier island beaches. There are 342 acres of natural land here too with many animal species in its peaceful surroundings. The water is very shallow with a gradual slope with gentle waves which make family swimming very enjoyable and safe.
Is there public access to Barefoot Beach?
Yes, public access for Barefoot Beach Preserve is at the end of Barefoot Beach Road off of Bonita Beach Road. The beach is located just south of this access point.
How much does it cost to go to Barefoot Beach?
Barefoot Beach Preserve is located at 505 Barefoot Beach Boulevard. The drive to the beach will take you through an amazingly beautiful neighborhood. The entrance fee is $8 and there is a conveniently located parking lot within a short walk from the beach area.
Are there bathrooms at Barefoot Beach?
The Preserve does have bathrooms and outdoor showers and a pavilion. You can also rent beach equipment and buy drinks and food. Restroom facilities are available and there is a concession with rental beach equipment and food and drinks.
Are dogs allowed on Barefoot Beach?
No, they aren't, this beach is not pooch-friendly. However, there is an actual Dog Beach about 4 miles away in Bonita Springs that is wonderful where dogs can be off-leash and romp and swim!
Tigertail Beach, Marco Island
Tigertail Beach is one of two public beaches on Marco Island. It is a three-mile barrier beach with white sand at the tip of the island. Although Marco Island is densely developed the beach is peaceful and undeveloped with gorgeous sunsets. Since it's a barrier beach it is great for shelling and has many sea birds and shorebirds. In fact, it's a stop on the Great Florida Birding Trail.
How much does it cost to get into Tigertail Beach?
Public parking is $8 per vehicle per day or $1.50 per hour if you don't have a parking pass and there are 226 spaces plus 6 handicap spaces. You can get beach parking permits from the city of Naples or Collier County.
How long is the walk at Tigertail Beach?
Getting to the beach is a long walk, at least ½ a mile. Of course, once you reach this secluded beach you know it was worth it, especially if you plan on spending the day relaxing, swimming, and working on your tan.
Can you drink on Tigertail Beach?
Yes, you can but glass is not allowed on the beach so make sure you bring canned beverages or plastic cups. Of course, make sure you bring your trash back out with you, preserving these pristine beaches and the ocean is of paramount importance!
Hobe Sound National Wildlife Refuge
The beach at The Hobe Sound National Wildlife Refuge is a refuge on Jupiter Island and the beach may be the most secluded, wild, and natural beach in south Florida. Totaling over 1000 acres, the refuge is one of the most productive nesting habitats for sea turtles in the United States. It has many nature trails where you can hike on the estuaries, sand pine scrub areas, and the barrier island. The Wildlife Refuge hosts a very popular sea turtle walk program from the end of May through mid-July. It also is home to the Hobe Sound Nature Center.
Are dogs allowed at Hobe Sound Beach?
Yes! Dogs are allowed on Hope Sound Beach which is located just a short, lovely ride from Hope Sound on Jupiter Island. If the parking area is crowded then continue north for a few miles and you will find a more secluded and beautiful area of the beach where parking is often not an issue.
Where did the name Hobe Sound come from?
Long before Europeans settled in Florida Native Americans inhabited the coastal regions between the Indian and St. Lucie rivers and south, an area of about 100 miles. It is said that the name Hobe is derived from the Spaniards' pronunciation of Jobe, as 'ho-bay'. This eventually evolved into Hobe. Whatever the case may be, this region of Florida is full of natural beauty well worth exploring.
Mobbly Bayou Beach Park
Mobbly Bayou Beach Park has a nice sized beach area, although a little smaller when compared with the others we've reviewed here it is very lovely, rustic, and quiet. The preserve is 396 acres, located in upper Tampa Bay, and it encompasses a wide diversity of upland and coastal plant communities. Family and picnic-friendly for sure, the preserve itself is great for recreation with a canoe launch, observation platform, a fishing pier, and hiking trails. There is a picnic shelter wonderful for family fun, a parking area, and restrooms.
Is Mobbly Beach Park & Mobbly Bayou pet-friendly?
Yes, it is pet friendly - it has a dog park! So when you bring the family to swim, picnic, and relax you can also bring the four-legged members of the family. Mobbly Beach Park is highly rated by visitors.
Is Mobbly Beach Park & Mobbly Bayou good for kids?
When you have the combination of a well-preserved natural beach surrounded by acres of woodland preserve, great recreation amenities, a picnic area, a picnic shelter, a dog park, and restrooms it makes for the perfect setting for a family outing with the kids and pets.
Fort De Soto Park
Put plainly, Fort De Soto Park is one of the most outstanding beaches and parks in Florida. Located south-southwest of St. Petersburg, FL, at 1,136 acres it is one of the largest in Florida's Park System and is made up of five connected islands on the Gulf of Mexico and Tampa Bay. The natural beauty here is amazing hosting mangroves, palm hammocks, and multiple native plants, not to mention more than 328 species of birds. Fort De Soto has often been named America's Top secluded Beach.
So feel free to explore a Spanish-American early 1800s-era fort, exercise with your doggies on the beach and in the water, or simply bask in the sun on your favorite lounge chair.
How much does it cost to get into Fort DeSoto?
You can enter the park for free but if you need to park your vehicle there is a $5.00 fee for a parking permit and is open seven days per week from 7 am to dusk. It is free if you are entering the park.
Is Fort De Soto worth visiting?
We say a resounding Yes! Fort De Soto is a gem on Florida's west coast for all of the reasons we've already highlighted above. It is definitely worth the visit with something for everyone. And if you are still looking for an even more "away from it all" island beach then catch the ferry to Egmont Key located from a fishing pier at Fort De Soto. The key has great snorkeling and miles of nearly empty beach, a wonderful lighthouse at the ruins of Fort Dade. The ferry ride takes 20 minutes and runs multiple times a day.
Is Fort De Soto pet friendly?
Fort De Soto is more than pet friendly, it is one of the only beaches in the area where your pet can be off-leash at the beach with loads of room to splish and splash. There are even two fenced-in areas for large and small dogs with water stations. Additionally, it has hoses to rinse off your four-legged best friends before you go home.
Indian Rocks Beach
Indian Rocks Beach is located on a barrier island. It's a short drive from Tampa or St. Petersburg and boasts nearly three miles of outstanding sandy white beach. This secluded beach is long and fronts many beachfront communities. The city's tourist population is one of its greatest assets, as people come from all over the world to visit Indian Rocks Beach for the city's fine beaches and to watch the beautiful sunsets. The main attraction, of course, is the longest stretch of beach that skirts these barrier island communities. If you're not staying at one of the many beachfront condominiums where you can walk right out onto the sand, there are plenty of parking areas and beach accesses available. The beach is long and borders other barrier island beach towns, so it's easy to walk for miles looking for shells in the sand and dolphins in the surf. On your beach stroll, be sure to stop by the Seaside Seabird Sanctuary.
Can you swim at Indian Rocks Beach?
The water is calm and shallow with a gradual slope into deeper water which is a recipe for great swimming! The beaches here are some of the best in Florida.
Is Indian Rocks Beach good?
Indian Rocks Beach is a favorite if you are looking for a relaxed beach experience, it is less touristy and more family-friendly than neighboring beaches. The pristine shoreline and fewer crowds make for a great day at the beach. And there are ample food choices on Gulf Boulevard.
How much does it cost to park at Indian Rocks Beach?
The fee is $5.00 per day with a three-day maximum and there are 27 beach access points along Gulf Boulevard.
Upham Beach Park
Upham Beach in St. Petersburg is a wide, sandy beach flanked by dunes that are cleaned and groomed every morning making the pure white sand very inviting. There are public restrooms and outdoor showers to rinse off at the end of your visit and public volleyball courts too.
The Seaside Grille is located right on the beach and has outdoor seating serving breakfast and lunch, 8 am to 4 pm daily. It remains one of the only beaches in St. Pete that are not behind a hotel or condominium. If you walk a little north you'll come to Blind Pass which good surfing and fishing at its rock jetty. This is a popular place to watch the sunset and during the day dolphins very often appear and show off by jumping out of the water.
Where is Upham Beach Park Located?
Located in St. Petersberg which is a very urban area this beach is not private or secluded, however, it is very popular and lovely and deserves a mention here. Upham Beach stretches from about 67th Avenue to 71st Avenue and parking is at Gulf Boulevard at 68th Avenue.
How much is parking at Upham Beach?
Upham Beach has metered parking from 8 am until 8 pm which costs $3.25 per hour or $15 for the entire day, but if you come after 8 pm, the parking is free. There are 4 wooden walkways that will take you from the parking lot to the white sandy shores
Is Upham Beach Dog Friendly?
Unfortunately, the beach is not pet friendly, dogs are not allowed. The city of St. Pete Beach has officially opened the McKenney Park Dog Park located at 9300 Blind Pass Road.
Which are the best private beaches in Florida: Our Conclusion
Which is the best private beach in Florida?
Floridas beaches are consistently voted as the top beaches in the US. How do you choose the best when there are so many of America's Top Beaches in this review! From this sampling we've created for you, a few of the most private beaches we've brought you are Hobe Sound National Wildlife Refuge, St. Lucie Inlet Preserve State Park, Cayo Costa State Park, Fort De Soto Park, St. George Island, and Cape San Blas. All rank as the most secluded, private, and quiet beaches we've listed, a few of them you need to reach by boat.
If we had to pick the most private beach in Florida it is most likely Cayo Costa State Park since it can only be reached by boat or ferry, it's nine miles of pristine, wide beaches, no development at all, and a sense of privacy at the moment you set foot on the island. A very close runner-up would be Hobe Sound National Wildlife Refuge.
Florida's private beaches FAQs
What is the best way to access Florida's least secluded beaches?
If you're planning to explore the beaches of Florida, there's no better way to do it than by boat. sail.me offers hundreds of affordable boat rentals in Florida so you can have a great time on the water and then anchoring offshore or docking at the State Parks and a few others that offer to moor.
sail.me has boats of many different sizes and types, from sailboats, and catamarans to yachts, whether you're looking for something small enough for just two people or something that can seat up to twelve people comfortably, we've got what you need!
Safety is our number one concern. All our rentals come with safety equipment such as life jackets, experienced captains, and even waterproof bags for your belongings so that you can enjoy your trip without worrying about anything else but enjoying yourself.
So don't wait any longer to explore this beautiful state and its beaches by the sea! Book your boat today and take off on an adventure you won't soon forget!
Which beach offers a horseback ride opportunity in Florida?
Two of the most established beach horseback riding are listed here. Cape San Blas has availability for rentals at Two-Bit Stable. And at St. Lucie Inlet Preserve you can book horseback riding tours on Breakatoe.com located at Frederick Douglass Memorial Park, on South Hutchinson Island in St. Lucie County. Make sure you make reservations in advance.
A list of other horseback riding opportunities on or off the beach in Florida can be found by clicking here.
How can I find the most secluded beach near me in Florida?
You've already found it, the list is right here! We've identified the Florida beaches that are the least touristy. From beaches that are in more populated areas to secluded beaches that can only be accessed by boat, all of them offer a greater sense of privacy and seclusion so you can enjoy your holiday at the beach!
What is the best-hidden beach for a romantic date?
If you are seeking privacy for an intimate, romantic beach date Shell Island has miles of sandy coastline that is often rated as America's Best Romantic Secluded Beach in Florida. If you're not near Shell Island we would also suggest our choices of the most secluded beaches - St. Lucie Inlet Preserve State Park, Cayo Costa State Park, Fort De Soto Park, St. George Island, and Cape San Blas. Visit any of these and then find that hidden cove or sand dune, spread out your beach blanket, open the picnic basket and beach umbrella and snuggle up!
Can I enjoy a family picnic on a secluded beach in Florida?
We would suggest Mobbly Bayou Beach Park as one of the better family-friendly parks for picnicking. It has a combination of a natural beach surrounded by acres of woodland preserve, great recreation amenities, and facilities, a picnic area, a picnic shelter, a dog park, and restrooms, all of which make for the perfect setting for a family outing with the kids and pets.
Are there any dog-friendly secluded beaches in Florida?
Apollo Beach Preserve, St. George Island, St. Joseph Penisula State Park, Cape San Blas, Cayo Costa State Park, Hobe Island Beach, and Mobbly Beach Park are a few of the beaches we reviewed that are pet friendly. On some of these beautiful beaches leashes are required, some are not. Be sure to check the local ordinances before you visit because many change their pet-friendly rules often. This website can be helpful when seeking out pet-friendly Florida beaches.
You might also like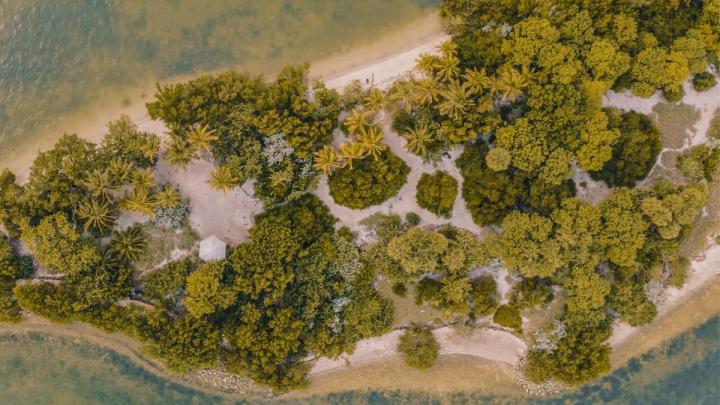 7 Top Islands in Florida to Visit by Boat
Sep 14 2023Guides
Are you ready to embark on a nautical adventure through the stunning waters of Florida? Florida is blessed with an abundance of picturesque islands, each offering its unique charm and allure.
read full post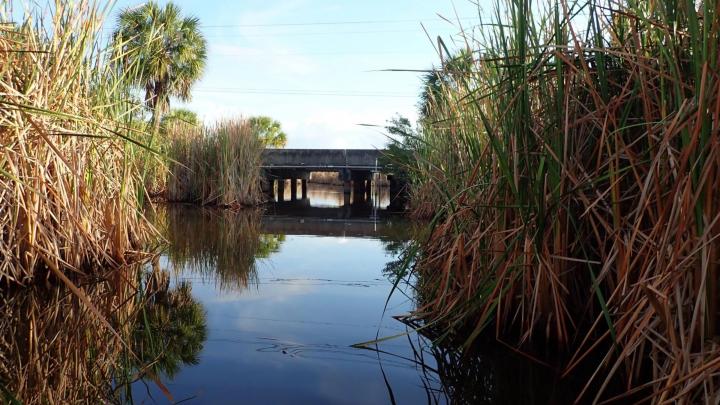 Fishing in Tamiami Canal, FL
Sep 19 2022Guides
Tamiami Canal Florida is considered the best fishing spot in Florida. If you are a fisherman it will not disappoint. It is very popular among local anglers. If you love nature and want to go fishing in the heart of South Florida then this is the perfect place for you.
read full post
7 Best Fishing Spots in Miami
Sep 20 2022Boating tips, Guides
Check out these 7 best fishing spots in Miami. Locations if you don't have a boat, for surf fishing, freshwater spots, and ones off Miami beach
read full post