Top 10 Places for Scuba Diving 🤿 in Florida
Posted Jun 28 2022 in Guides
There are so many exciting things to do in Florida, but when you think about it, most of them are on the water. From luxurious yachting to simple boat life, jet-skiing, surfing, and extreme water sports - it's time you open yourself to unforgettable underwater experiences as well.
Scuba diving is a thrilling and calming concept of exploring a whole new world under the ocean surface. Diving allows you to catch a glimpse of sea life, swim among coral reefs and schools of fish, and find yourself in peace.
Are you excited to go scuba diving already? Then keep on reading, as sail.me has prepared a detailed list of the 10 most breathtaking spots for underwater adventures in Florida:
10 Best Diving Hot Spots in Florida:
Blue Grotto
Venice beach
Fort Lauderdale
Devil's Den
Dry Tortugas National Park
Crystal River
Looe Key
West Palm Beach
Destin
Key Largo
Blue Grotto
Take the time to explore Florida's most famous cavern. The Blue Grotto attracts and captivates beginner and experienced divers with its crystal clear waters, constant 72 degrees temperature, and stunning natural features.

The area is perfect for diving enthusiasts who want to see some of the best underwater views in the Sunshine state. Once you descend into the cavern, you can dive to a depth of 100 feet. There is an air bell at 30 feet where you can take a break and have a chat with your diving buddies.
Venice Beach
The world-known Venice Beach holds literal sharp secrets any scuba diver would love to uncover. How to do that? Rent a boat with sail.me and head towards the ancient riverbed located a mile offshore. The area is commonly referred to as the "Shark Tooth Capital of the World."
As the name would suggest, this place was once a hotspot for prehistoric sharks and you can easily collect huge shark teeth from the ocean floor. Hire a scuba diving guide and equipment directly upon booking, so you get the most of the experience.
Fort Lauderdale
If scuba diving is your passion but so are exploration and sightseeing, then Fort Lauderdale has the ultimate adventure in store for you. Very close to the beach shore you will find yourself in an underwater fairytale, surrounded by charmingly attractive wrecks that mimic the nearby town and its architectural features.
The artificially built reef consists of numerous enormous wrecks sent to the ocean floor on purpose. All structures you get to spot under the water near Fort Lauderdale are home to a large population of fish, corals, and sponges. Sealife appears to be thriving in the reef, promising an unbelievably exciting diving adventure.
Devil's Den
In case you are a fan of cave diving, a vacation to the Sunshine State would be incomplete without a trip to Devil's Den. Situated near Williston town and close to the Blue Grotto, this environmental wonder is a top-rated destination for snorkeling and scuba diving in Florida.
This fern-draped sinkhole is a natural wonder that divers of all ranks appreciate. It gets its name from its unique geological structure, rising steam, and warm waters, which early settlers deemed to call the den of hell.
Dry Tortugas National Park
Dry Tortugas National Park is undoubtedly one of the most spectacular scuba diving spots, not only in Florida but in the U.S. as well. The scenic coral reef islands are flooded with schools of vibrant tropical fish, offering the ultimate diving experience to both beginners and experts.
Due to its clear shallow waters, this sea life sanctuary is ideal for snorkeling buffs. But colorful fish and marine creatures are not the only things you get to see upon your visit to the national park. The two nearby wreckage fields (Windjammer wreck) are an adventurous spot for those who want to see a sunk ship, home to thousands of spiny lobsters, queen conchs, and starfish.
Crystal River
For all marine life lovers out there, the Crystal River offers unique opportunities for snorkeling divers to spot gorgeous manatees up close. Thanks to its warm water temperatures, the destination draws herds of endangered manatees all throughout winter, up until mid-spring.
Let's not forget Crystal River is more than just a manatee hotspot. It is also a great place to watch and swim next to boiling springs from underground aquifers. For environmental reasons, scuba diving is prohibited in regards to keeping the area a manatee sanctuary.
However, you can still enjoy wildlife sighting and diving by snorkeling your way underwater. There is a variety of fish you can encounter on your journey - bass, garfish, tarpon, snapper, and redfish.
Looe Key
Whether you have experience or you are new to scuba diving in Florida, you most probably heard about the majestic coral oasis of Looe Key. These waters are the perfect spot to see a living reef and swim along with colorful schools of fish in an underwater wonder world. Part of a National Marine Sanctuary, this reef is considered one of the most beautiful ecosystems in the world and the gem of Florida Keys.
West Palm Beach
What would make a trip offshore better than diving with sea turtles? That's right, West Palm Beach is the ultimate place to go scuba diving in Florida and swim along with these wonderful sea creatures. The season for frequent turtle spotting starts in May and ends in September.
The captivating power of the Gulf Stream is the perfect combination of clear water, scenic views, amazing corals, and abundance of sea life. Rated as a top destination for its endless coral reef, whales migratory path, and aquatic animal breeding ground, the area attracts tourists from all over the globe.
Destin
For those of you who want to explore historical wrecks underwater, sail.me knows you would appreciate Destin. With an impressive military background, the waters near the shore are filled with sunken crafts, tanks, vessels, airplanes, barges, and rubble. Peacefully living in this underwater ghost town are fish inhabitants such as flounder, cobia, and grouper.
Key Largo
Pennekamp Coral Reef State Park has everything you are looking for in the greatest scuba diving places in Florida. Underwater views, vivid corals, multicolored fish, rich sea life - you name it, it's there.
Key Largo is not a place for shallow water lovers. Dive into the deep to spot and observe oceanic jacks, barracudas, and big marine animals from up close. Want to explore shipwrecks? Sure, there are a few. The Spiegel Grove should be your highlight scuba diving spot, but we are sure you would not want to miss the Bibb and Duane wrecks as well.
You might also like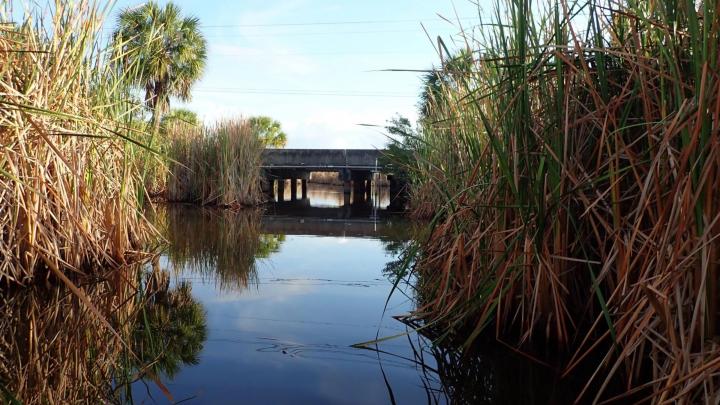 Fishing in Tamiami Canal, FL
Sep 19 2022Guides
Tamiami Canal Florida is considered the best fishing spot in Florida. If you are a fisherman it will not disappoint. It is very popular among local anglers. If you love nature and want to go fishing in the heart of South Florida then this is the perfect place for you.
read full post
7 Best Fishing Spots in Miami
Sep 20 2022Boating tips, Guides
Check out these 7 best fishing spots in Miami. Locations if you don't have a boat, for surf fishing, freshwater spots, and ones off Miami beach
read full post
Miami Bachelorette Party Boat Guide: All You Need To Know
Jul 14 2022Guides
Our Miami bachelorette party boat guide covers all you need to know, from boat rental to the types of boats, what you need to take, budget costs & more!
read full post