5 Ways sail.me Helps You Monetize Your Boat
Posted Oct 12 2021 in About sail.me
Choosing the right service that will help you monetize your boat is important. That's why sail.me is giving you 5 ways to choose the right platform to list your boat for rent.
Ready to earn some extra funds by renting out your boat or yacht? sail.me is an interactive service that allows you to monetize your boat in a secure, safe, and easy way. A user-
friendly app and website will help you manage reservations, add-ons, and set customized routes to provide an ultimate boat trip experience.

Interested yet? Keep on reading to find out why sail.me is the top solution for your boat rental needs.
Choosing sail.me to Earn Money as a Boat Owner

It's so easy to monetize your boat when your partner is flexible and user-oriented like
ourselves. Our advanced platform is a perfectly balanced system, providing a seamless
experience for both boat owners and renters.
Our top industry advantages include:

• List out an unlimited number of boats for free
• Preset add-on services
• Create interactive boat routes
• Manage a fixed or flexible pricing plan
• Online and cash settlements
• Get detailed rental statistics
• User-friendly on desktop and mobile
• Secure account and personal data privacy
How to list your boat?
The procedure of listing your boat for rent is simple like 1, 2, 3.
Register on sail.me and click the Add boat button to gain instant access to all features without exposing your private data and personal details.
Next, add authentic eye-catching photos and an accurate description of your boat. Enlist its features and amenities, as well as the additional service and excursions you intend to provide. Set the prices - and you are good to go!
Boat Rental Done Right: How to Monetize Your Boat with sail.me?
Do you want to earn money, gain a reputation, and provide unconditional value to the guests at the same time? sail.me promotes your boat and helps you customize your boat rental listing in a smart and convenient way that genuinely brings you more bookings.
Check out these 5 methods to help monetize your boat with the sail.me platform:
1. Create adventure itineraries
sail.me is more than just a platform that allows you to monetize your boat. It also helps you set preliminary routes for private excursions and trips, and display them on an interactive map with a relevant description. That way, boat enthusiasts can not only rent your boat but also take advantage of an organized boat adventure.
We are sure you know great sailing routes to entertain and capture the interest of your guests. Take your renters on a beach hopping or sightseeing tour. Go explore nearby islands and hidden coves, or enjoy a full-on fishing trip. Wildlife (whale watching, dolphin, etc.) and bird watching is also an amazing experience if the target destination allows it.
Our add-on and interactive route features allow you to take your itineraries to a whole new level. Let it be more than a boat rental, let it be an unforgettable experience! Is your local climate and environment suitable for snorkeling, scuba diving, or extreme watersports? Then you are certainly familiar with the best local spots to make life a bit more exciting. Go for it!
2. Customize the experience with add-ons
Working with clients has its ups and downs, that's why sail.me aims at minimizing risks and customer dissatisfaction. How? By offering a wide selection of additional services upon booking and making boat rental arrangements smoother than ever.
Nothing thrills more than a custom boat experience, altered to match client demands and expectations. sail.me's optional and required add-on features can make it all happen - from organizing the perfect event to getting the best of a private boat tour.
If you host social events, renters can book a DJ or catering with just one click to spice up every boat party. In case your boat service is more adventure-oriented, consider renting out diving and snorkeling equipment or grant extra amenities. The add-on feature allows you to include local port taxes, tips, and additional renter insurance.
3. User-friendly service
If you want to monetize your boat, you need to position your offer right and provide a top-notch customer experience. sail.me gives you both - it is easy to use and promotes your boats for you!
We take pride in our fast and reliable user-friendly system. sail.me users can enjoy both a website version and an app for iOS and Android, making the platform available and fully operational on desktop, tablet, and mobile.
With all features accessible, it is easy to manage your listings, prices, availability, and even check boat bookings any place, any time. The platform's functionality will help you connect and interact with your renters in real-time.
4. Advanced price management
Of course, you are not obliged to rent out your boat at a permanent price throughout the year! We understand that a flat fee can be super frustrating on a holiday, and a daily rental demand can be challenging if you are working full-time or trying to enjoy family time. That's why we have adjusted our platform to bring maximum flexibility to your pricing plans.
The advanced Prices and Availability calendar helps you manage and set custom boat prices, according to demand, season, holidays, and days of the week. You can make changes on the go - quick and easy, and never worry about messing up your personal schedule again.
5. Transactions made easy
We are happy as long as you are, so we have built our boat rental system flexible and adjustable to different kinds of settlements. Boat rentals and add-on services are payable on booking and at base, with no hidden costs or commissions.
Want to accept cash payments post-reservation? Sure, no problem, as long as it works for you! Want to take the transaction process online? We've got you covered! With our payment system, you don't need to deal with transfers directly.
The online system processes instant payments through a secure gateway. All transactions go through authentication and fraud prevention analysis, so your money is always safe! After check out, you will get an automatic settlement to your preferred bank or e-wallet account.
Ready to monetize your boat? From hosting fishing, sightseeing, and adventure tours, to practicing extreme sports, and even offering it as a private event venue, boat rental opportunities are endless.
Create your account on sail.me to list your boat and start earning money right away!
You might also like
BoatTalks - sail.me & BoatTest Interview
Feb 11 2022About sail.me
We joined Captain Steve from boattest.com to give some insights about the sail.me boat rental platform and its features!
read full post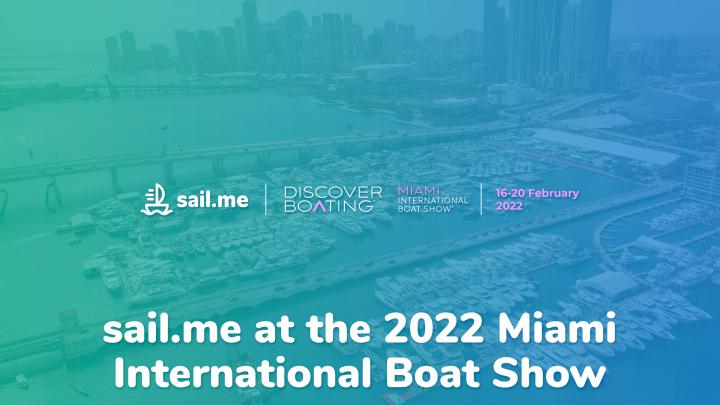 sail.me at the 2022 Discover Boating Miami International Boat Show
Mar 01 2022About sail.me
We're thrilled to announce that sail.me will be featured at one of the largest boat and yacht events in the world - the 2022 Discover Boating Miami International Boat Show!
read full post
Lisa Blair – Sails the World
Oct 12 2021About sail.me
The road to environmental change is long and challenging. And not always on land. Just like in the case of Lisa Blair - the woman, who embarks on solo sailing adventures around the world and collects vital data on marine pollution and ocean health.
read full post