Top 5 Fishing Spots in the Southeast 🎣
Posted Jul 23 2021 in Guides
The US is a country of anglers and fisherman, and it's proud to have some of the widest variety of fishing spots suitable for all. From beginners to experts and from the worker to the CEO, all looking for their best catch can find the perfect fishing location, answering their needs and capabilities.
The Southeast is blessed with almost year-round warm temperatures and a combination of great salt and sweetwater basins. From South Carolina to Florida, Alabama, and Texas, the best fishing destinations in the Southeast can easily qualify as some of the best in the country altogether.
Trout, catfish, and mackerel are all waiting for you to cast your hook and the chances are that you can be lucky to make your biggest catch ever in the Southeast US.
A guide to best fishing spots in the Southeast
Whether it's a deep fishing experience for which you may need serious equipment and rent a boat or just a simple family vacation, we make sure to put it all on our list:
The Florida Keys, Florida
The Florida Keys is probably one of the best fishing spots in the US and the world as well. It's full of remarkable scenery and breathtaking views that attract nature lovers, photographers, and, yes - fishers worldwide.
The year-round warm temperatures, combined with the tropical climate, offer an abundant food environment, which could mean only one thing - large fish. You can catch one of your biggest catches here in Florida keys.
The waters are full of Bonefish, Redfish, Yellowtail, and Barracuda. The deep-sea is also an option with Dolphinfish, Marlin, Grouper, Snapper, and many other open-water predators.
The most convenient and traditional way of fishing in Florida keys is usually by charter fishing. Because the keys consist of many islands, the best option for you will be to rent a boat and try as many and as various locations, as you can.
Pamlico Sound, North Carolina
Pamlico Sound is located between North Carolina's mainland to the west and a string of narrow islands to the east. The rich breeding and feeding waters of Pamlico sound are one of the best fishing spots in the Southeast.
It's attractive both to professionals and families alike, and boat rental seems necessary to enjoy the open salt waters. From shallow flats to offshore fishing, Pamlico offers you absolute freedom when it comes to choosing what's best for you. And it's probably the best fishing spot in the US to catch mullet, sheepshead, redfish, and shark.
Louisiana Bayou, Louisiana
The next place on our list again offers a wide variety of options and opportunities for fishing. The Bayou is well known for its rare combination of high-quality salt and sweetwater fishing locations. This region of the pelican state has wetlands, shallows, waterways, and offshore and deep-sea fishing deep inside the Gulf of Mexico.
Lousiana's waterways system is undoubtedly among the best fishing spots in the US when it comes to freshwater fishing. The bayous offer allows more oxygen to the water, which is the main reason you will find more than 100 species in the area.
You can enjoy the freshwater areas searching for your best catch of fat bass and whopping catfish, or you can instead choose to rent a boat into the Gulf of Mexico and catch yellowfin tuna. In the coastal shallows, you'll also be able to seek redfish. Bream, Rio Grande perch, carp, shrimp, crawfish are also excellent to catch in the Bayou.
Lake Guntersville, Alabama
Lake Guntersville is a giant 70 000 acre lake is the capital of Bass fishing and among the US's best fishing spots. There are many regular tournaments for fishing Bass, which attract huge interest for fisherman from the entire US almost every week.
The lake is an impoundment of the Tennessee River and provides rich breeding and feeding ground for other fish species as well, such as smallmouth, sauger, and catfish. You can rent a boat to enjoy the whole fishing experience; remember that the lake has an extensive buying system requiring all fishermen and boatmen to be aware.
Lake Okeechobee, Florida
When it comes to freshwater fishing, Lake Okeechobee is among the best fishing destinations in the Southeast, attracting many tournaments and competitions. The lake spans more than 730 square miles of water, full of the most popular freshwater bass for fishing.
To limit yourself to a single shore location for fishing in such a general, open-space location is nothing less than missing an opportunity. So rent a boat and take as much as you can from Lake Okeechobee.
You can try your luck with fishing Bass, Crappie, and Bluegill, abundant in those waters. Catch and release practice is customary on this lake, but you can keep up to five basses each day and no more than one bass larger than 22 inches.
You might also like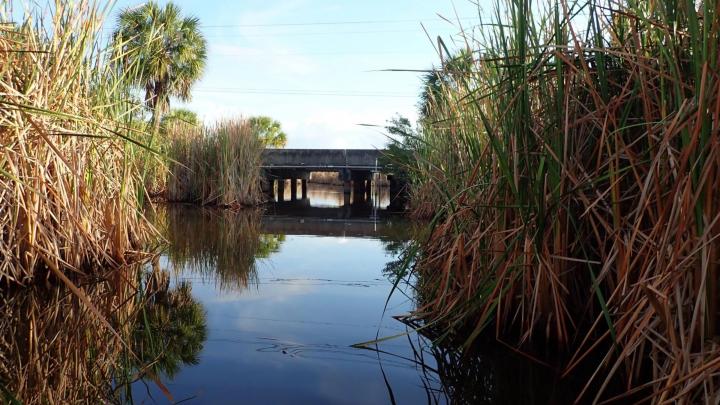 Fishing in Tamiami Canal, FL
Sep 19 2022Guides
Tamiami Canal Florida is considered the best fishing spot in Florida. If you are a fisherman it will not disappoint. It is very popular among local anglers. If you love nature and want to go fishing in the heart of South Florida then this is the perfect place for you.
read full post
7 Best Fishing Spots in Miami
Sep 20 2022Boating tips, Guides
Check out these 7 best fishing spots in Miami. Locations if you don't have a boat, for surf fishing, freshwater spots, and ones off Miami beach
read full post
Miami Bachelorette Party Boat Guide: All You Need To Know
Jul 14 2022Guides
Our Miami bachelorette party boat guide covers all you need to know, from boat rental to the types of boats, what you need to take, budget costs & more!
read full post