BoatTalks - sail.me & BoatTest Interview
Posted Feb 11 2022 in About sail.me
We joined Captain Steve from boattest.com to give some insights about the sail.me boat rental platform and its features!
Captain Steve: sail.me is a community built by boat lovers for boat lovers. It's an interactive platform that allows you to monetize your boat in a secure, safe, and easy way. And here to talk to me about sail.me's clever program is sail.me's manager of customer service Michael Decker. Michael, thanks for joining us today!
Michael: Hi, Captain Steve, a pleasure to join you today!
Captain Steve: Let's start with a question about charting with you folks! First of all, are there size limitations to what is available?
Michael: No, we have no limitations on what size boat is available - we list motorboats, sailboats of all types up to full-size yachts, and charter fleets.
Captain Steve: How many locations are currently in your network?
Michael: Currently we have over 300 worldwide locations listed and growing!
Captain Steve: Wow! Do I have to be in membership to do this?
Michael: Listing your vessel or fleet on sail.me is completely free, no paid membership is required to list your boat.
Captain Steve: Who sets the prices?
Michael: The boat owner sets their prices and can offer the renter multiple pricing options and discounts.
Captain Steve: Let's say I own a boat and I want to be part of the sail.me boat charter marketplace, how does this work?
Michael: It is simple and seamless - a boat owner lists their boat for rental and completes the profile setup. After full vetting by our staff, the vessel is published.
Captain Steve: How much does sail.me get?
Michael: We charge the industry standard of 20% - we offer the owner the flexibility to charge it all to the renter, split it with them or the owner can absorb it all.
Captain Steve: What happens when things go missing? Or I had Steiner Binoculars and now there's West Marine?
Michael: We strongly recommend that the owner and renter review the contents and sign an inventory list. This is standard industry practice.
Captain Steve: Who handles the vetting process to make sure only qualified operators are taking my boat?
Michael: In the US bareboat rentals (unlicensed captains) are restricted by the Coast Guard and are not available. Outside the US, renters must upload their captain license for the boat owner to review. We require the boat owner to enter into a contract with licensed captains only they have vetted.
Captain Steve: I go onboard and I tell you it stinks of cigar or cigarette smoke. How do you verify this or deal with my desire to have it cleaned from top to bottom at your expense?
Michael: The actual price for cleaning is an add-on fee set by the boat owner, it is paid by the renter and it is not included in the commission calculation.
Captain Steve: What separates sail.me from other platforms in the market?
Michael: sail.me offers to its customer's several advantages when compared to the other platforms on the market:
A fast and easy-to-use stand-alone mobile app containing all the features as the website version - full control is in the palm of your hand. We take pride in our fast and reliable user-friendly system. Sail.me users can enjoy not only a website version but an App for iOS and Android, making the platform available and fully operational on desktop, tablet, and mobile.
Ability to customize the customer's experience with add-ons (Captain, Jet-Ski, Food, Staff, etc.)
Fast and secure encrypted transactions, we offer standard wire transfers and we offer Pay-Pal and Zelle payout options to all our customers
We advertise your boat for free through our media and social media channels
With all features accessible, it is easy to manage your listings, prices, availability, and check boat bookings any place, any time. The platform's functionality will help you connect and interact with your renters in real-time.
Captain Steve: Wow! Sounds outstanding! I suppose if I have any other questions I can contact you easily?
Michael: You can always contact us and we will help you with any inquiries you have!
You might also like
BoatTalks - sail.me & BoatTest Interview
Feb 11 2022About sail.me
We joined Captain Steve from boattest.com to give some insights about the sail.me boat rental platform and its features!
read full post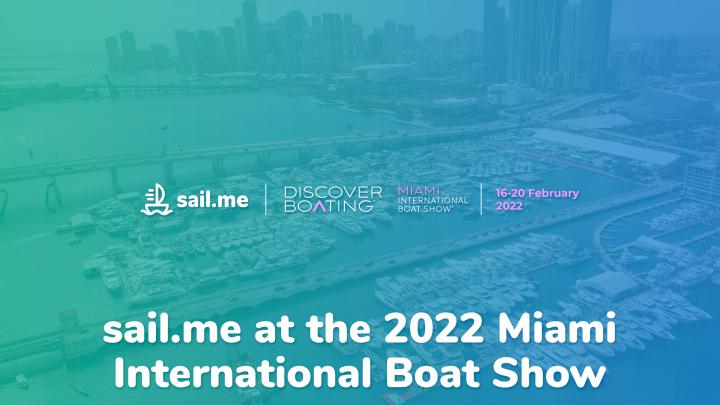 sail.me at the 2022 Discover Boating Miami International Boat Show
Mar 01 2022About sail.me
We're thrilled to announce that sail.me will be featured at one of the largest boat and yacht events in the world - the 2022 Discover Boating Miami International Boat Show!
read full post
Lisa Blair – Sails the World
Oct 12 2021About sail.me
The road to environmental change is long and challenging. And not always on land. Just like in the case of Lisa Blair - the woman, who embarks on solo sailing adventures around the world and collects vital data on marine pollution and ocean health.
read full post