The 12 Best Places in the U.S. to Go Whale Watching 🐋
Posted Nov 04 2021 in Guides
If you are a boating enthusiast, chances are watching whales in their natural habitat is on your bucket list. We get it. Whales are majestic sea creatures you rarely get the chance to see up close. Unless you own a vessel, rent a boat, or sail on a yacht charter or cruise ship, of course.
Whether you join a whale-watching tour or observe sea life from ashore, this is an amazing and unforgettable experience that lives in your memory forever. So if you're ready to go whale watching in the US, stay tuned. We will take you on a journey throughout the states, to discover the most scenic destinations for wildlife spotting:
Long Island, New York
Whale watching season: July to September
Wildlife variety: Finbacks, Humpbacks, Blue Whales, Baleen Whales, Toothed Whales, Minkes, Sei Whales, Sperm Whales
We all know New York as a US tourism hotspot. With countless tourist attractions such as Central Park, Statue of Liberty, Coney Island, Time Square, and so much more, visitors from all across the globe are drawn to the megapolis. But did you know that there are more than 25 whale varieties you can spot around Long Island? Well, if you have a trip to the Big Apple coming soon, spare a day to rent a boat or go on a whale-watching cruise. Depart from Queens or Montauk, and don't miss a chance to also spot dolphins, seals, and sea turtles on your journey.
Maui, Hawaii
Whale watching season: November to May
Wildlife variety: Humpback whales
Hawaii is the US paradise for an exotic vacation away from the rush of daily life and big cities. Yet, except for experiencing stunning beaches, exquisite local cuisine, and rich culture, you can also get a taste of adventure on the crystal clear waters. Head to the nearest harbor for a boat tour or pick up your boat rental with sail.me and sail out to observe the humpbacks lingering nearby. If you want a chance to spot baby whales, the best time for your visit is in February.
Bar Harbor, Maine
Whale watching season: April to October
Wildlife variety: Humpbacks, Finbacks, Minkes
One of the premier places to view aquatic wildlife in the United States is Bar Harbor. The Gulf of Maine is rich in krill, squid, and fish that's why minkes, finbacks, and humpbacks love to hang around. The area's undeniable coastal charm and sea life abundance win the heart of every boating adventurer headed to Bar Harbor.
Virginia Beach, Virginia
Whale watching season: December to March
Wildlife variety: Humpbacks
The area of Virginia beach is known for its numerous humpback whale sightings during the winter and early spring seasons. Thanks to the local climate, the waters are relatively warm year round which makes the location a favorite spot for whales to linger around and spend winter nearby. The Virginia Aquarium & Marine Science Center is constantly on the lookout for humpbacks, so before you go offshore - call them to check if there have been any recent sightings.
Cape Cod, Massachusetts
Whale watching season: April to October
Wildlife variety: Minkes, Finbacks, Humpback Whales, Pilot Whales
One of the best places to spot these beautiful aquatic creatures is the Stellwagen Bank National Marine Sanctuary, near Cape Cod. The area is protected and therefore highly populated with various whale species and untamed marine wildlife. During the whale watching season from April to October, tourists from all across the globe come to enjoy a sea life sighting tour by boat.
San Juan Islands, Washington
Whale watching season: All year
Wildlife variety: Orcas, Humpbacks, Gray Whales, Minkes
The San Juan Islands are a picturesque cluster of isles, situated along the Pacific Northwest Whale Trail. By visiting the islands, you visit a top-rated US destination to watch and observe killer whales (orcas). The location is a whale habitat all year round, with higher sighting rates in warmer months. If you rent a boat or book a whale-watching cruise ship you might also spot some local sea lions as well.
Newport Beach, California
Whale watching season: All year
Wildlife variety: Blue Whales, Gray Whales, Humpbacks, Finbacks, Minkes
Newport Beach is the LA gem of whale sighting with a neverending wildlife watching season! Just an hour trip from Los Angeles will take you to the warm blue waters, home to numerous whale species like finbacks, minkes, and humpbacks. Gray whales can be spotted around in the winter and spring months, and blue whales occasionally reside nearby in summer. If you book a boat for a tour to cruise around Newport Beach, you might also get to see seals and pelicans.
Juneau, Alaska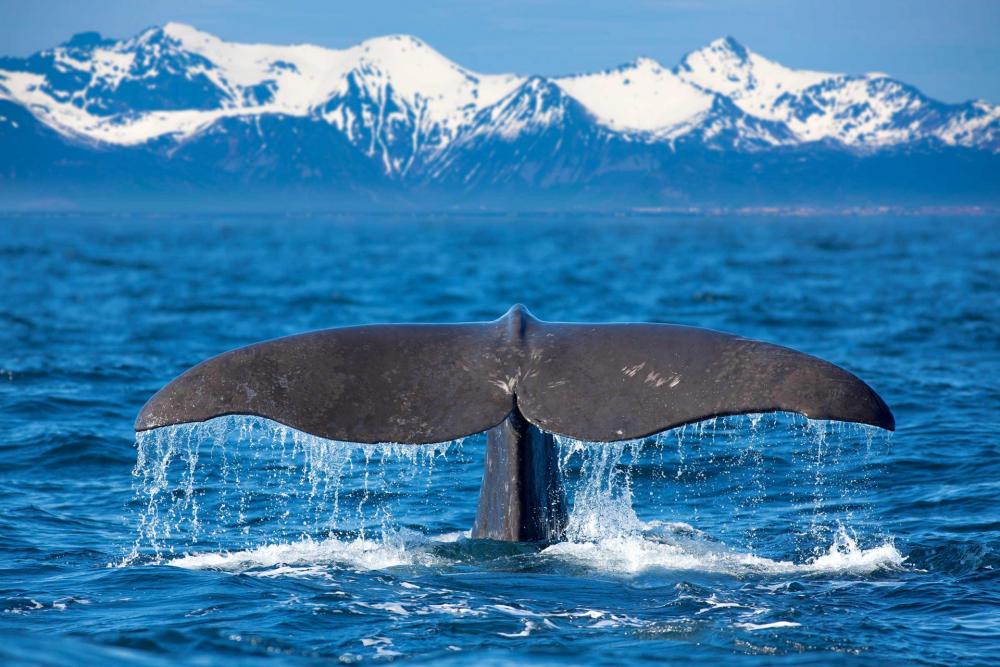 Whale watching season: May to September
Wildlife variety: Orcas, Humpback whales
In case you ever find yourself in the cold waters of Alaska's coast and wish to explore the waters for sea life, then you'd most definitely have a trip of a lifetime! Except for picturesque views, you get to see huge orcas and humpbacks in their environment. The best time to spot the majestic whales is during warmer months in summer. Book a boat to get a private tour and get close to the marine animals or enjoy whale-watching from the shore around the Rainforest Trail and Amalga Harbor.
Jacksonville, Florida
Whale watching season: December to March
Wildlife variety: Right Whales
The Right whale is one of the most endangered whale species on the planet. The current number of right whales is estimated at less than 500 specimens around the globe. But the good news is, many of them choose the waters near Jacksonville and Cape Canaveral as their winter residence. Though the whale sightings in the area are not that common, the possibility of detecting and recognizing an endangered whale is all worth it. For a better chance to spot the right whale on your vacation, bring binoculars and ask the locals around for the best sighting spots.
Cape May, New Jersey
Whale watching season: All year
Wildlife variety: Humpbacks, Finbacks, Right Whales
Found yourself in New Jersey, ready for a trip offshore? Then whale watching should be on top of your to-do list. The whale sighting season is year-round, so all you need to do is book a boat tour and start exploring the waters of Cape May. Most whales you can spot in the area are permanently residing and rarely migrating, so your chances of seeing wildlife like whales and dolphins are as high as they can be.
Myrtle Beach, South Carolina
Whale watching season: November to April
Wildlife variety: Right Whales, Pygmy Sperm Whales, Humpbacks
Want to go sea life sighting but avoid the crowd of tourists? Then Myrtle Beach is a great destination for a whale-watching adventure you'd love. Sightings are not that abundant, however, many rare and endangered whales reside in the area.
Depoe Bay, Oregon
Whale watching season: All year
Wildlife variety: Blue Whales, Gray Whales, Humpbacks
If you're searching for the perfect location to spot whales in their natural habitat, try Depoe Bay. The tiny town is famous for its year-round sightings of blue, gray, and humpback whales. Those types of whales are known to be some of the largest marine animals in the world. Book a boat tour to cruise or head out to the Whale Watching Center to catch a glimpse of those magnificent sea life creatures.
You might also like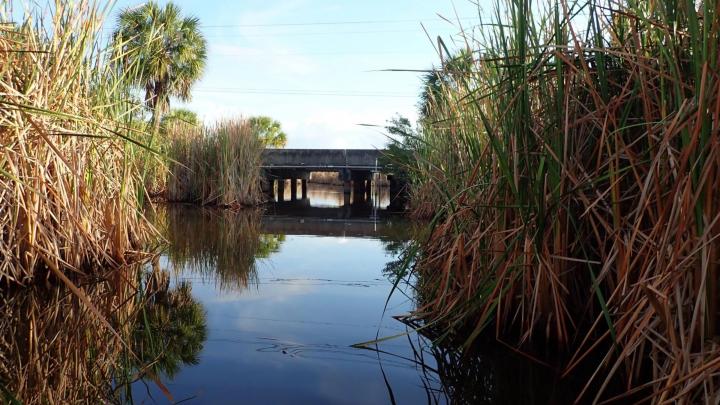 Fishing in Tamiami Canal, FL
Sep 19 2022Guides
Tamiami Canal Florida is considered the best fishing spot in Florida. If you are a fisherman it will not disappoint. It is very popular among local anglers. If you love nature and want to go fishing in the heart of South Florida then this is the perfect place for you.
read full post
7 Best Fishing Spots in Miami
Sep 20 2022Boating tips, Guides
Check out these 7 best fishing spots in Miami. Locations if you don't have a boat, for surf fishing, freshwater spots, and ones off Miami beach
read full post
Miami Bachelorette Party Boat Guide: All You Need To Know
Jul 14 2022Guides
Our Miami bachelorette party boat guide covers all you need to know, from boat rental to the types of boats, what you need to take, budget costs & more!
read full post