Local Boating Guide of South Florida 🐚
Posted Nov 12 2021 in Guides
Famous for its cruises, sailing, and water activities, the sunshine state is a must-visit US destination for boating enthusiasts.
But beyond all the crowded and commercialized touristy spots in South Florida we've all heard of, lay amazing underrated destinations the local sailors enjoy on a daily basis.
These locations offer something for everyone who wants to have a great time on the water. Got your interest, yet? sail.me prepared a South Florida local boating guide to help you get the most out of your visit and discover the best places to rent a boat.
Keep on reading to learn more.
Why South Florida?
The warm weather, abundant marine life, and countless beautiful beaches make this subtropical destination a perfect spot for boating and water activities. The sailing conditions are ideal almost all year round, attracting experienced and enthusiastic boaters from around the globe.
With that in mind, planning a South Florida trip should definitely include a boat rental for water-based activities like swimming, scuba diving, reef snorkeling, fishing, and cruising. The Florida Keys and all the small isles and beaches along the coast are also great destinations for an island-hopping exploration journey.
Yacht charters and boat rentals are a game-changer for those who want to experience the very best of life on the Southeast Coast or the Mexican Gulf. The South Florida area is a fishing and snorkeling paradise.
Boating in South Florida: Top Destinations
South Beach
The stunning region captivates visitors with its pristine beaches, rich sea life, grand views, delicious local cuisine, and an ultimate party vibe! SoBe is the best place to enjoy the nightlife, get social, and relax on the beach.
But if you are up for an adventure, go ahead and book a boat or charter a yacht in South Beach. This area is a go-to place for water-sport junkies. That is the reason why most speed boat rentals in Miami are equipped with wakeboards, water skis, and other water sports gear.
St. Petersburg
Everyone has heard of the magnificent Tampa Bay - the boating haven for on-the-water fun and recreation. And right there, lays the wonderful city of St. Petersburg, an all-time favorite destination of sailors.
From museums to local waterfront restaurants, from boutique shops to beautiful marinas, St. Pete has a lot to offer for its visitors. Both on the water and on the shore.
If you are more interested in water adventures, go check out the local yacht and boat rentals on sail.me and book your dream boat. After all, this part of the Tampa Bay area is world-known as a top fishing spot in South Florida.
Haulover Sandbar
Looking for a sandbar party place in South Florida? We definitely recommend Haulover Sandbar for those seeking excitement. The Miami Beach location is easily accessible by boat rental and promises to be the highlight of a party sailing trip to Miami.
Dock the boat and enjoy the warm weather, bright sunshine, and picturesque blue water. This boating hangout offers great opportunities to go for a swim, sunbathe on deck, or dance and drink cocktails onboard.
Fort Lauderdale
For those who prefer to stay on land, Fort Lauderdale is top-notch for beach time, shopping endeavors, museum visits, and live music events. For boater enthusiasts, the area is the ultimate spot to book a boat or get a yacht charter to take you on a private boat tour.
Fort Lauderdale is a fishing hotspot for anglers, novice sailors, and experienced boaters. If fishing is your thing, then booking a boat should be on your to-do list. With a boat rental, you can head out to sea and catch fish like tuna, mahi-mahi, amberjack, barracuda, cobia, sailfish, and swordfish.
Florida Keys
The Florida Keys are a must-visit sailing destination. Visiting the area by boat will let you feel the Caribbean vibe, without leaving the US. Moreover, the scenic isle chain of around 1900 islands has everything there is to offer in terms of over-the-water and underwater activities.
There is a wild variety of fish and marine animals roaming these warm waters. Combined with gorgeous underwater flora and endless vivid coral reefs, the Florida Keys have gained their reputation as a boating hotspot for snorkeling, diving, and fishing.
One thing is certain, you will never regret exploring those gorgeous isles with your Florida Keys' yacht charter or rental boat. Except for wonderful sceneries, you can see wildlife up close underwater or from the comfort of your rental. Just make sure to request the boating gear you would need for the adventures upon booking a boat in South Florida.
You might also like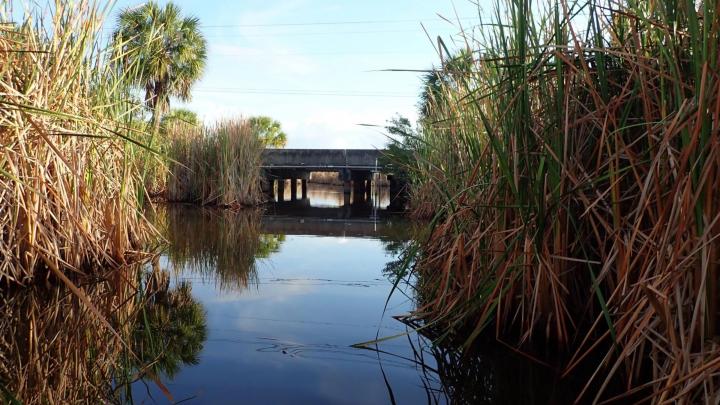 Fishing in Tamiami Canal, FL
Sep 19 2022Guides
Tamiami Canal Florida is considered the best fishing spot in Florida. If you are a fisherman it will not disappoint. It is very popular among local anglers. If you love nature and want to go fishing in the heart of South Florida then this is the perfect place for you.
read full post
7 Best Fishing Spots in Miami
Sep 20 2022Boating tips, Guides
Check out these 7 best fishing spots in Miami. Locations if you don't have a boat, for surf fishing, freshwater spots, and ones off Miami beach
read full post
Miami Bachelorette Party Boat Guide: All You Need To Know
Jul 14 2022Guides
Our Miami bachelorette party boat guide covers all you need to know, from boat rental to the types of boats, what you need to take, budget costs & more!
read full post