How to Legally Drive a Boat in my State?
Posted Jul 22 2021 in Boating tips
If you have ever dreamed of being a captain, then boat rentals can get you a step closer to making that dream a reality. Don't assume that becoming a boat operator is a simple process though. It takes more than just booking a boat and getting on board.
Before you embark on a sailing adventure, you need to be aware of all the state requirements for obtaining a license to drive a boat. There are permits to obtain, rules to follow, and regulations you have to be aware of. And they differ from state to state. Checking all the details with the local authorities will save you a lot of headaches at a later stage.
As a start, sail.me has gathered helpful information on boating and captain licensing to make the process easier for you:
Boat licensing rules and regulations in the US
Training and education on safe boating and vessel operation are vital before going on the water. These types of courses prepare you for unfortunate situations and help you avert accidents. So whether a state rules them as mandatory or optional, captains have a responsibility to ensure onboard safety, as well as to enhance and better their abilities.
Boating education course
Even though every state has its own legal requirements when it comes to boating licenses, there is one rule that you would want to follow in the entire US. Every person born on or after January 1st, 1986, has to go through boating education before being allowed to operate a watercraft.
Boating safety and Boater Education Card
Boating safety should be a top priority when going offshore. That's why additional courses on navigation, equipment, first aid, and boat operation are always advisable. By gaining relevant safety skills and experience you get to help prevent accidents and properly handle misfortunate situations.
Once a boating safety course is passed, the state issues a Boater Education Card. With no expiration date and no need for future renewal, this card serves a lifetime proof for completion of an approved safety program.
Captain license: Everything you need to know
Obtaining a boat driving license is super important if you plan on owning or renting a large powerful boat, and sailing without hiring a captain. Without getting a state permit, not only you would not be able to rent a boat at all, but if you do - you will be breaking the law and putting all passengers at risk.
There are some cases in which a Captain's license is not a requirement. sail.me will guide you through all of them. Here are the main factors that need to be considered when applying for a license:
Age limit
Boat size
Boat type
Vessel horsepower
Age limit
One of the first things to consider when getting a permit to drive a boat is age. The age limit for operating a watercraft varies in different states. Most often the limit is 18, however, some states allow maneuvering a boat at 16.
If you plan on applying for a Captain's license for a boat rental, make sure to ask the local authorities at the state where you are renting for the age restrictions.
Boat size requirements
In some states, the size of the boat affects whether you need a captain's permit to drive it or not. With that in mind, boat size is an essential factor when it comes to legally drive a boat.
You can sail on small fishing boats or paddle boats, without the need of getting through the tough procedure of acquiring a license. On the other side, when it comes to large sailboats, yachts, and wheel-operated motor vessels, the captain needs to master sailing techniques and have relevant experience. That is when a Captain's license is legally required.
Usually, the hassle is too much for someone who just wants to enjoy a boat rental. So when you rent a boat or book a yacht charter, take advantage of the option to hire a captain. But if you really want to learn how to operate a yacht or a large boat, then getting a boat driving permit will surely be helpful in the long run.
Boat powering type
Boat powering has everything to do with the need for Captain's license. That's why it is vital to acknowledge what's operating the watercraft and whether the boat or boats you plan to drive have sails, a motor, etc.
When the boat is powered by a motor, obtaining a license is mandatory. Unlike yachts and other motor-powered boats, wind vessels like sailboats rarely require a permit, no matter their size. Before you rent a boat and set sail, please double-check this requirement with the state's local authority.
Vessel horsepower
Even though state laws differ when it comes to boating permits, usually small boats with horsepower less than 100 would not require a Captain's license. But if you plan on driving a more powerful watercraft, the responsibility and risk get higher, therefore applying for a permit is a must.
What documents do you need to obtain a Captain's License?
There is not a unified answer to this question. Every state has different requirements and designated documents needed to obtain a Captain's license. In any case, you would need your ID and have to successfully pass the test. Feel free to reach out to the local services in your state to get detailed information on the matter.
You might also like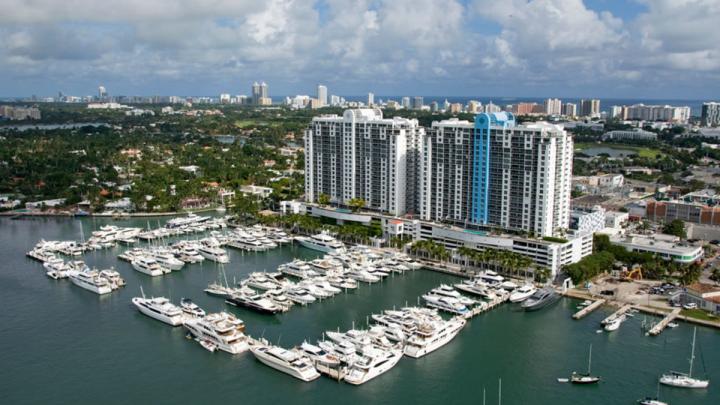 Sunset Harbour Yacht Club (Review)
Sep 22 2022Boating tips
Located in the heart of Miami Beach is Sunset Harbour Yacht Club's luxurious marina -. With its unique equity membership, it's simply the best yacht club in Miami.
read full post
7 Best Fishing Spots in Miami
Sep 20 2022Boating tips, Guides
Check out these 7 best fishing spots in Miami. Locations if you don't have a boat, for surf fishing, freshwater spots, and ones off Miami beach
read full post
10 Best Boat Clubs in Miami Compared for 2022
Aug 23 2022Boating tips
Check out these best boat clubs in Miami to find one that suits you, whether it's for boat rentals, sailing boats, yachts, or specifically for Miami beach.
read full post