Best Places to Boat in Miami
Posted Jan 03 2022 in Guides
Looking for the best places to go boating in Miami? Stay around, sail.me is going to guide you through all the top Miami locations worth visiting by boat. There is something to do for everyone's taste - shopping, dining, sightseeing, partying, wildlife watching, diving, fishing… and you barely have to leave your boat!
Exploring Miami by boat: Best spots for boating
With the Keys nearby, the Intracoastal Waterway, and the Miami river, along with the numerous sandbars, national parks, land access points, and beaches, the Miami waterfront is ideal for boating activities.
Here are some of the best boating spots in Miami:
Coconut Groove
Coconut Grove is one of the best places to boat in Miami. The picturesque bohemian district on the coast of Biscayne Bay hosts the largest Miami marina and offers various boating activities. On land, Coconut Grove stuns with scenic streets full of shops, restaurants, and tropical greenery.
The oldest inhabited area of Miami is accessible by boat and dockage is available, so you can take a nice break from sailing to go explore the lively neighborhood. Do not miss the chance to savor the festive local atmosphere, enjoy a shopping spree or try some of the delicious food in the area.
Miami Beach Architectural District
Also known as the Art Deco District of Miami, the historic neighborhood is a must-visit by boat and on foot. The area promises fantastic views of traditional art deco buildings that will take you back in time. The perfect combination of the Miami vibe and the breathtaking architecture is a sight you should not miss.
The Art Deco District is considered the most extensive collection of Art Deco Architecture in the world. It consists of 960 buildings with historical significance. The properties are accessible by boat thanks to the closeby connections with the Atlantic Ocean coast, the Collins Canal, and Indian Creek.
The Miami Sandbars
Other sights you should not miss when boating in Miami are the local sandbars. There are three big sandbars you can visit for a chill beach day and picnic during the day or a wild boat party or sandbar party at night:
Nixon Sandbar
Haulover Sandbar
Bear Cut Sandbar
The Miami sandbars are local boating spots. That makes them a perfect place to meet and socialize with other boaters and sailing enthusiasts. As well as the ultimate destination to enjoy sceneries, unwind and have some fun on the water in Miami.
Key Biscayne
Key Biscayne is probably the most famous place to explore Miami by boat. There you get to enjoy all kinds of boating activities or just dock your boat and have fun on land.
Home to the local history gem - the Cape Florida Lighthouse, and the picturesque Bear Cut sandbar, the key offers something interesting for every visitor. With lots of underwater sites and thriving marine life, Key Biscayne is also considered a wonderful place for snorkeling and scuba diving.
The area hosts some of the best sailing spots and close-by scenic nature locations like Crandon Park and Bill Baggs Florida State Park. That makes it easy to spot sea turtles, herons, osprey in their natural habitat. Rare plants, dunes, and pristine beaches are also a common sight.
Cape Florida Lighthouse
If you are a seafarer exploring Miami waters definitely visit the Cape Florida Lighthouse at the south part of Key Biscayne. Even though there are 30 lighthouses in the sunshine state, Miami's oldest lighthouse surely stands out from the other structures with both history and scenery.
The Cape Florida Lighthouse has been a beacon of light and a guiding point for local sailors and visitors. It is also open to the public. So if you dock your boat rental nearby, you can even go to the top balcony to savor the breathtaking views of Miami Beach, Biscayne Bay, Stilts Ville, and the Atlantic.
Miami Marine Stadium
`The historical Miami Marine Stadium is a sight in Miami no sailor should miss visiting. The old stadium is located in the southern part of the city, on Virginia Key, and is accessible by boat.
As the first Powerboat stadium ever built in the US, there is a lot of history to unravel there. Back in its glorious days, the structure used to seat over 6500 spectators who wanted to watch powerboat races. With its big floating scene, the Miami Marine Stadium was also a top venue for concerts.
In 1992, the architectural masterpiece was deemed unsafe and eventually closed to the public. After the long-term damage from hurricane Andrew, most of the restoration attempts to bring the stadium back to life have not been very successful.
Boca Chita Key
Boca Chita Key is a boating gem in Miami, protected by the National Park Service. The island is a hotspot for sailing enthusiasts because of its great boating and fishing conditions, amazing sceneries, and excellent location, right in between Biscayne Bay and the Florida Keys.
The key provides close-to-nature entertainment to those who want to spend some quality time on land. Dock your vessel in the island cove or anchor your boat on any of the pristine beaches. Go for a scenic walk, enjoy camping activities, or have a picnic with your friends or family.
You might also like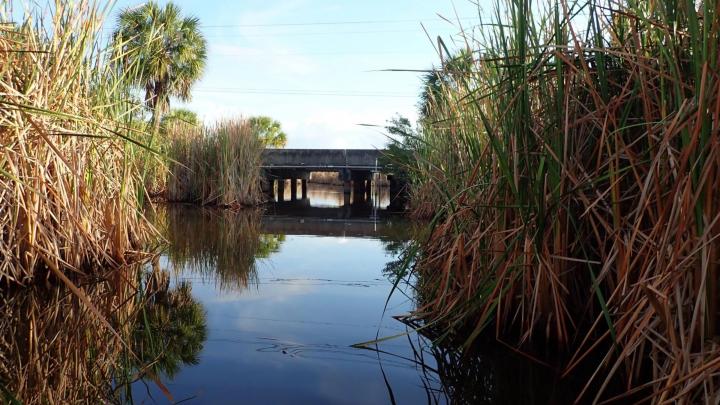 Fishing in Tamiami Canal, FL
Sep 19 2022Guides
Tamiami Canal Florida is considered the best fishing spot in Florida. If you are a fisherman it will not disappoint. It is very popular among local anglers. If you love nature and want to go fishing in the heart of South Florida then this is the perfect place for you.
read full post
7 Best Fishing Spots in Miami
Sep 20 2022Boating tips, Guides
Check out these 7 best fishing spots in Miami. Locations if you don't have a boat, for surf fishing, freshwater spots, and ones off Miami beach
read full post
Miami Bachelorette Party Boat Guide: All You Need To Know
Jul 14 2022Guides
Our Miami bachelorette party boat guide covers all you need to know, from boat rental to the types of boats, what you need to take, budget costs & more!
read full post