The 6 Best Boats for a Sailing Holiday with Friends
Posted Jun 21 2021 in Boating tips
Going on holiday with friends and want to rent a boat? If you don't know where to start, sail.me has got you covered. We are here to share professional advice on how to choose the perfect boat rental and what you need to take into account when you rent a boat. Keep reading to learn which are the top vessels recognized as the best boats for a holiday adventure with friends.
How to choose the perfect boat?
There are many factors to consider and boat features to look for when you rent a boat as a group. From on-board amenities and facilities to add-on services and crew hire, every boat rental has its own pros and cons. Making the right decision is important because not every boat out there will be a wise choice or a good fit for your group of friends.
Check out the sail.me list of the things to pay attention to upon boat selection.
Vacation theme & boating activities
The first step towards finding the ideal boat rental is to determine the purpose and goal of your trip. The vacation theme could be:
Adventure
Relaxation
Perfect mix of chill & action
In order to choose the right boat for a holiday with friends, next you need to decide what recreational activities you want to do during vacation time. After all, different boats have different functionalities which can be utilized for various purposes.
If your group has the wild factor, you might want to try extreme water sports or diving, go paddleboarding, bring or rent kayaks, or pay for jet rentals. In those cases, the group will require additional equipment. So better make sure the chosen boat rental company has the option to provide the extra gear for you.
In case you are more of a chill gang and your main boating activities include relaxing activities (swimming, sunbathing, fishing, wildlife watching, etc.) - then better go for a boat with a large deck for recreational fun.
Sleeping and bathroom arrangements
Sleeping arrangements are one of the most important factors in boat rental as a group. You would want all guests to be comfortable and have their own privacy and dedicated cabin space. So look for a large boat size and spacious cabins to prevent unnecessary overcrowding, which might ruin the experience for everyone.
Make sure to check vessel capacity and decide on the number of cabins and bunks you would need prior to booking. That way, you can rest assured the boat rental can host all your companions.
Last but not least, it's good to think about bathroom arrangements. When sailing in a big group there is nothing more annoying than waiting in line for a shared bathroom. Go for a boat that has several bathroom facilities, so all onboard guests have privacy and feel comfortable.
Crew & additional services
There are many perks in renting a boat with a captain, hostess, or/and other crew aboad. For all its worth, all guests could fully enjoy their time on the water, without worrying about boat operation and slight inconveniences.
Think about whether your gathering needs additional services such as hiring a private chef or mixologist, food and beverage catering, diving instructor, etc. Most boat rental companies will gladly arrange those add-ons for your comfort for an extra charge.
The best boats to hire with a group of friends
Sailboats and catamarans are considered the best vessel options for friend groups, who want to spend quality time together offshore. Here is a list of the top boats to rent for an unforgettable holiday trip:
Lagoon 450 F (Catamaran)
Cabins: 4-6
Bathrooms: 4
Capacity: 10-12 guests
Spacious cabins, practical interior features, and lots of bathroom facilities - no wonder this watercraft made out a list. It is a great accommodation choice for an overnight stay for large friend groups.
This catamaran is the ultimate boat to sail safely, enjoy water experiences and savor the boating life in a comfortable and private setting. The big dining area and lots of space for social interaction make the boat ideal for party gatherings.
Beneteau Oceanis 46.1 (Sailboat)
Cabins: 4-5
Bathrooms: 3
Capacity: 10-12 guests
A sailboat that stuns with practical contemporary design and a chic cabin atmosphere. The vessel can host up to 10 or 12 guests with optimal sleeping arrangements and bathroom amenities. Making overnight stay a pleasant and cozy boating experience for groups.
As one of the best boats to rent with friends, the Beneteau Oceanis 46.1 sailboat is safe and easy to operate and offers exceptional cruising sensations. Its spacious cockpit can gather all the passengers around the large table for food as well as fun recreational activities.
Lagoon 40 (Catamaran)
Cabins: 5-6
Bathrooms: 2-4
Capacity: 10 guests
This catamaran is perfect for a holiday with friends because it provides ideal sleeping and sailing conditions for groups of up to 10 guests. The big deck is a wonderful hangout area for recreation, relaxation, sunbathing, wildlife watching, and a friendly chat.
The boat stuns with functionality and luminous design, high-performance, and safety features, as well as the fact it is super easy to sail. Lagoon 40's large cockpit offers a great panoramic view and is perfect for small parties and gatherings.
Bavaria Cruiser 46 (Sailboat)
Cabins: 4
Bathrooms: 3
Capacity: 8 guests
If your small friend group wants to enjoy a great adventure on the water, then the Bavaria Cruiser 46 sailboat is just the boat rental you are looking for. The interior is efficient and functional, with four cozy cabins to host up to 8 people for an overnight stay.
The main operative advantages of the sailboat include stability, ultimate performance, and safety. With lots of storage space and an enormous cockpit to hang out in, this boat is perfect for a holiday with friends.
Fountaine-Pajot Lucia (Catamaran)
Cabins: 4
Bathrooms: 4
Capacity: 10 guests
The boat comes with a fully equipped kitchen, a large common area, and a big deck to enjoy the sun and savor the sailing life. If you love good marine scenery, then the 360 panoramic views in the saloon will blow you away! With exceptional design and spacious luxury cabins, this affordable watercraft is a top choice for a boating vacation with friends.
Dufour 460 Grand Large (Sailboat)
Cabins: 4
Bathrooms: 4
Capacity: 10 guests
If you are looking for a big vacation sailing boat, then the Dufour 460 Grand Large sailboat will change the boating game for you. With large deck and cockpit areas, the spacious 4-cabin vessel is perfect for sunbathing and other fun outdoor activities. Thanks to its outstanding interior features, a chic modern design, top safety, and stability, the boat provides the ultimate on-the-water getaway for a friend group of ten people.
Did you find the perfect boat for you and your friends? Head over to our sail.me search page to explore and browse through more countless boat rental options at your next vacation destination.
You might also like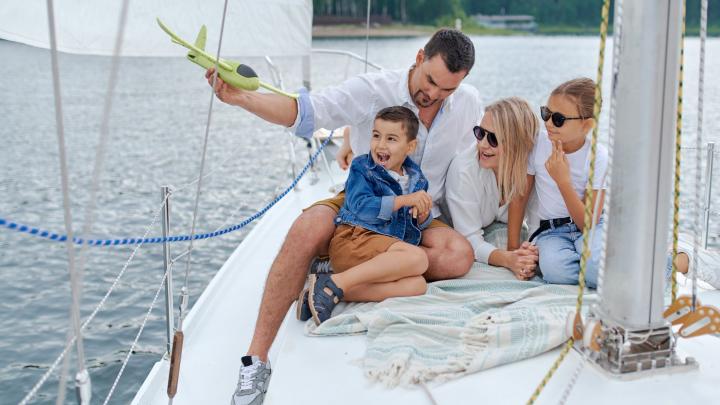 10 Boating Fun Ideas & Activities
Jul 01 2022Boating tips
These boating fun ideas, activities & must-have fun things to have on a boat will ensure your boating experience is much more enjoyable!
read full post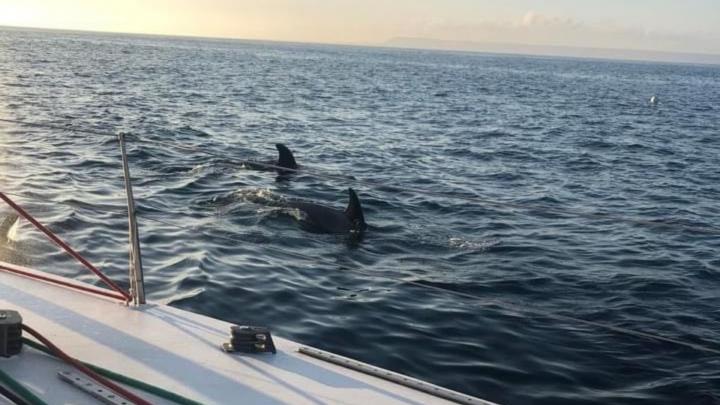 Does nature fight back? Why are orcas attacking boats?
May 27 2022Boating tips
Since 2020, there have been repeated orcas attacks on boats in the Strait of Gibraltar area, along the Portuguese and Moroccan coasts, up to the Bay of Biscay.
read full post
What to consider when planning a family boat trip?
May 18 2022Boating tips
A family boat trip is a perfect way to get close to nature, spend some quality time together, and explore both freshwater and saltwater environs. But before you set out on a maritime trek with your loved ones, it's a good idea to plan ahead.
read full post