Haulover Sandbar Miami Beach Fl Guide For The Best Boat Party
Posted Aug 01 2022 in Destinations
Heading to Florida to sail and party? Add Haulover Sandbar to your itinerary. Miami's most famous sandbar is one of the best places to have a boat party at sea!
Boat Party at Haulover Sandbar
Heading to Florida to sail and party? Add Haulover Sandbar to your itinerary. Miami's most famous sandbar is one of the best places to have a boat party at sea!
The sandy party hotspot is surrounded by turquoise shallow waters, where locals and visitors gather to have fun. Every sailor, tourist, and party-goer is welcome at Haulover Sandbar.
What is a sandbar boat party?
A sandbar party is like a regular daytime beach party with lots of boats (full of visitors), surrounding a sand island oasis. When you mix some quality sandbar fun with loud music, beverages, and a good mood on a boat, you get a sandbar boat party.
The best time to have a sandbar boat party is during the day, at low tide. That is when the sandbars fully emerge. Like a small sandy island is forming above the water for countless party-goers to enjoy.
Since sandbars are not accessible by foot or by land vehicles, people often come with kayaks, jet skis, speedboat rentals, charter yachts, or their personal vessels. Boat lovers and tourists tend to hang out and socialize at sandbar boat parties.
When it comes to partying in Miami waters, everyone knows Haulover Sandbar is the place to be as one of the best sandbars in Miami. Hundreds of boats come by Haulover Sandbar during the weekends. Loud music, drinks, and large groups of people. All here to savor the boat party lifestyle.
The party atmosphere is through the sky during the weekends (every day during the summer months). To learn more information about renting a boat or chartering a yacht to the Haulover Sandbar, visit the sail.me booking page.
You need a boat in order to participate in a boat party in Haulover Sandbar, and if you don't have one, we've got just the perfect boat rentals for a sandbar party.
Haulover Beach Sandbar: general information
Haulover Beach Sandbar is probably the most famous sandbar in Miami Beach, Florida. There are a few places in Miami that you can go to be one with nature, but the Haulover Sandbar has got to be one of the best. It's located right on the water and is a true hidden gem in Miami. The sandbar itself is only waist deep for kids, so if you have younger children then this place will definitely make them feel like they are swimming with the fishes! If you want something more than just swimming around or sunbathing on your towel then there is also plenty of room for boat parties as well.
Haulover Sandbar location
Haulover Sandbar Location is in the heart of the Haulover Cut. Haulover Sandbar is easily accessible from Bal Harbour Marina and Haulover Beach Marina by boat. There is no land connection so you can get there only by boat.
Some visitors prefer to join a boat cruise, however, the best way to have a boat party at Haulover Sandbar is on a yacht charter or a party boat rental. If you prefer to explore the waters in a more unconventional and adventurous way, you get also get there with a kayak.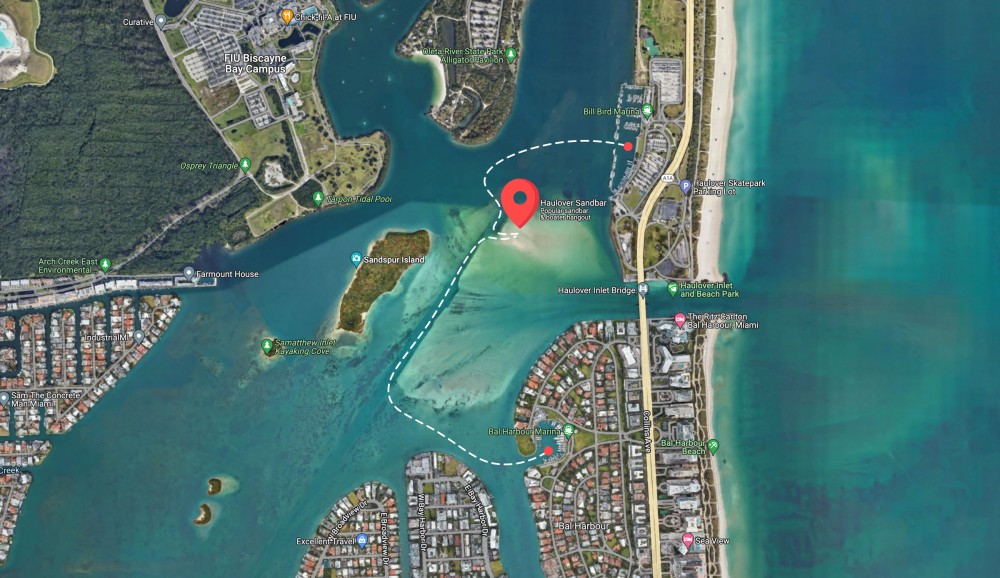 How to get to Haulover Sandbar?
Located between Sandspur Island and the Haulover Inlet, you can get to Haulover Sandbar by yacht, kayak, jet skis, or any other watercraft since it's surrounded by water. If you don't own a boat, we suggest you rent one from the nearest harbors - Bill Bird Marina or Bal Harbour.
Since the sandbar is really close to those marinas, we'd suggest you rent a boat for a half-day and you can include stopping by this amazing party place in no time!
The best time to go to Haulover Beach
The best time to go to Haulover Beach is early in the morning or late afternoon! In that way, you can escape the crowds and enjoy a relaxing and chill time with your friends or family at one of the top ten best-known public nude beaches worldwide!
Is Haulover Sandbar closing?
Yes, the Haulover Sandbar is going to be closed after the U.S. Army Corps of Engineers completes the scooping of the sand of the sandbar, which is moved to Bal Harbour Beach in order to control the beach erosion and improve hurricane protection. Haulover Sandbar dredging is still in motion, but it's expected to be completed in the near future. That being said, the Haulover Sandbar closing is just a matter of time.
Why is Haulover Sandbar so famous?
Haulover Sandbar is known as a hotspot for boating parties, but for many tourists, it's also a great place to take a dip in the ocean with friends and family. Famous for its shallow water, which makes it an ideal place to swim and play with your kids.
Is Haulover Inlet rough?
What makes Haulover Inled the most dangerous one in Florida? There are several factors that contribute to Haulover Inlet being so rough - its rock walls, combined with the strong currents and tides, make the crossing of the Inlet so choppy even for the most experienced captains!
Haulover Sandbar party on a boat: all you need to know
You can rent a boat with sail.me to come and be part of the Haulover Sandbar party. Boats can anchor in the sandbar and you can have some drinks, play some games and swim around. Or if you prefer something more relaxing you can grab your paddleboard or kayak and paddle around.
Rent a party boat
Miami is a great place to party, though nothing beats a boat party at Haulover Sandbar or Nixon Beach Sandbar. Whether you just want to unwind, host an event, or celebrate a special occasion, you would need a yacht or a party boat to make it happen.
Since the Haulover Sandbar is only accessible by boat, it is advisable to rent a boat or charter a yacht ahead of time. Of course, you will be able to find some boat rentals at Miami's marinas. But that only means you will have a limited choice of type of boat, price, rental conditions, add-on services, equipment, crew, etc.
With sail.me you can make the most of your boat party at Haulover Sandbar. Browse thousands of available boat rental options, hire a captain and crew, rent additional gear and onboard services, and book absolutely everything online.
Anything from luxury yachts and catamarans to speedboats and pontoons, the best party boat deals in Miami await you at sail.me.
Docking at Haulover Inlet Sandbar
One of the things about Haulover Inlet Sandbar is there is no designated docking place, but you can dock near other boats. Getting stuck is not a common occurrence considering the sandy shallow waters surrounding the sandbar.
Anchor your Miami boat rental where you see fit, as long as you are not in the way of other boats passing, coming, and going. When you dock your vessel, you can stay and party on the boat rental or get off, go for a swim and savor the warm Florida sunshine.
Partying at Haulover Sandbar Miami Beach FL
The most important thing you need to bring for a boat party at Haulover Sandbar Miami Beach FL is the party mood. As for the packing list, make sure to bring sun protection, plenty of drinkable water, lots of beverages, crunchy snacks, and of course - your favorite party swimsuit.
Stay hydrated and be careful when consuming alcohol. Boat parties can get messy if it's too dark or hot outside and boat passengers are intoxicated. So stay out of trouble. Make sure to stay friendly to other party crowds and boaters at the sandbar and keep your party group on their good behavior.
There will be many sandbar visitors who come to Haulover Sandbar for the same reason as you - to relax and party on a boat. Take this as an opportunity to meet people, make new friends and have the time of your life.
Other things to do at the sandbar at Haulover Beach
The sandy shores and warm waters of the sandbar at Haulover Beach are also welcoming to visitors who enjoy other water-based activities:
Watersports at Haulover, Miami
If yachting at Haulover Sandbar is not enough of a thrill for you, watersports are also quite popular in the area. Rent a speedboat with watersports gear from sail.me to bring the adrenaline up. Right outside Haulover Sandbar, at Biscayne Bay, you can indulge in your favorite water sports hobby (jet skiing, wakeboarding, and more).
Beach activities
No need to party to have fun. All kinds of family-friendly beach activities are welcome at Haulover Sandbar. Soak, go swimming, snorkel in the crystal shallow waters, relax with some cold drinks, sunbathe for that Florida summer tan, or even have lunch on a floating boat. The possibilities for beach fun are endless.
Haulover Sandbar is a boating oasis that attracts huge crowds for the best sandbar parties in Miami. If you want to experience what the sandbar has to offer, head over to sail.me to book a boat and start planning your Haulover Sandbar boat party in no time.
Haulover Inlet Sandbar: Final points
If you are looking for a good boat party with amazing vibes, the boat parties at Haulover sandbar are where you should end up. This boat zone has it all - from food boats (obviously you can't have food trucks in the water), amazing boat parties, and family fun to magnificent Atlantic ocean views! So if you don't own a boat, rent one from sail.me and make sure to visit this South Florida party paradise!
You might also like
Best 10 Things To Do in Dania Beach
Oct 06 2022Destinations
Dania Beach is a fun, small town on the coast of Florida. It's full of beautiful beaches, outdoor activities, and great places to eat. There's so much to do here that you'll have a hard time choosing what to do first!
read full post
All you need to know about Nixon Sandbar
Jun 28 2022Destinations
Heading to Nixon Sandbar with your boat or boat rental? The trip is absolutely worth it, and you are about to learn why in this article.
read full post
Exploring Coconut Grove
May 16 2022Destinations
Every Miami visitor has to see the sailing paradise of Coconut Grove! The neighborhood is stunning, has a rich history, and offers some of the best boating conditions in the Miami area. So if you are headed that way with your boat or boat rental soon, keep on reading. In this article, we will share everything you need to know about Coconut Grove.
read full post