Explore 9 Cheap Hotels in South Beach Miami
Posted Oct 24 2022 in Guides
Even the most budget-conscious traveler knows that South Beach is expensive. Still, there are ways to save on your next trip to Miami!
It's possible to get more for less than you ever dreamed of, and these hotels will prove it. So don't let your budget hold you back from exploring all the things to do in South Beach Miami. Miles of beaches, world-class dining, and an active nightlife scene. These budgets are your ticket to a fun vacation in Miami!
This list describes ten cheap hotels in South Beach Miami, with prices as low as $60 a night in some cases:
The Goodtime Hotel
The South Beach Plaza Villas
Fairwind Hotel Miami
Hôtel Gaythering
Bikini Lodge
Impala Hotel
Riviera Suites South Beach
Freehand Miami
LaFlora HotelBars
B&B South Beach Hotel
The Goodtime Hotel
The Goodtime Hotel is an affordable hotel that is located in South Beach. The hotel has a variety of amenities, including free Wi-Fi, breakfast, a pool, and a fitness center. There are also several restaurants within walking distance of the hotel.
The Goodtime Hotel offers refurbished rooms and suites with a relaxing atmosphere that can accommodate up to four people. The rooms offer two queen beds or one king bed, flat-screen TVs and telephones with voicemail capabilities as well as work desks with office chairs for those who need to get some business done while on vacation.
Amenities include continental breakfast daily plus coffee available 24 hours; workout facility; outdoor heated pool; laundry facilities and valet parking service ($35 per day).
Rates range from $101 to $150 per night depending on seasonality or special events taking place nearby (such as Ultra Music Festival) and availability
The South Beach Plaza Villas
The South Beach Plaza Villas is a great value for the money. Prices start from $60 per night! The hotel offers free parking, free breakfast and coffee, and free local calls. There's also a pool on-site to cool off after exploring South Beach.
The check-in time is 3 pm, but you'll need to be out by 12 pm since this is a no-frills hotel (meaning there isn't much staff). Once you've checked in and dropped your stuff off at the front desk, head down to their restaurant for some grub with friends or family! They serve breakfast in the morning from 6 am until 10:30 am; lunch from 11:30 am until 4 pm; dinner from 5 pm until 10 pm; and an evening snack bar menu starting at 11:30 pm through midnight.
Fairwind Hotel Miami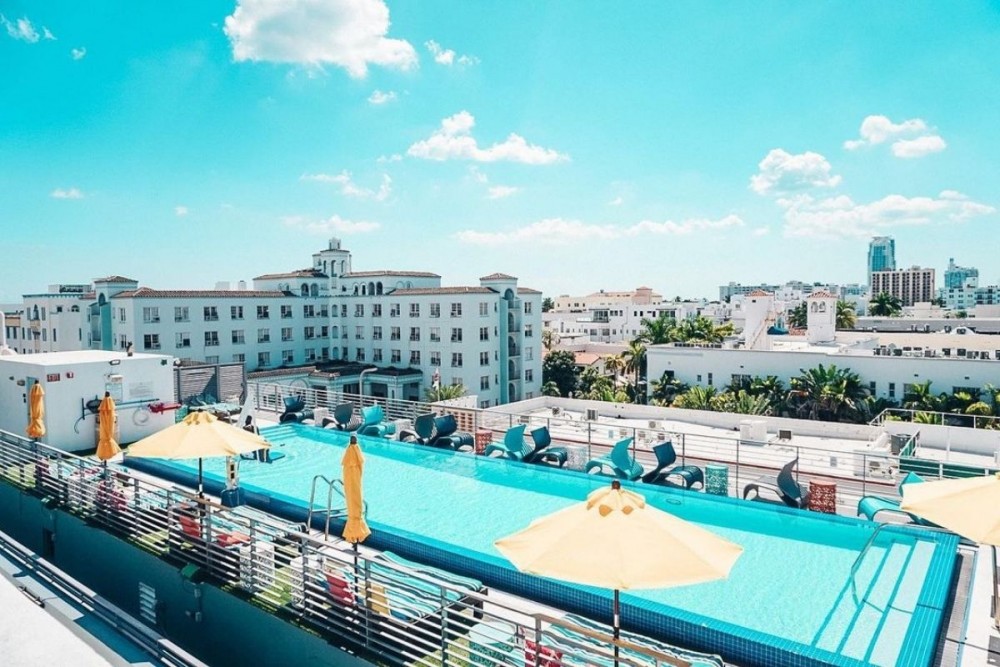 The Fairwind Hotel Miami is a cheap hotel in South Beach with some great amenities, including free WiFi and a rooftop pool. The hotel also offers a fitness center and business center, plus free parking, breakfast, and shuttle service to the beach (or anywhere else you need to go on vacation).
The Fairwind has rooms for $99 per night or less that include one king bed or two queen beds. Two-room suites are available for about $150 per night. There's no casino at this hotel but there is valet parking available if you want to drive somewhere else after checking in but don't want to worry about finding street parking when you return later in the evening.
Bikini Lodge
If you're looking for a cheap hotel in South Beach, the Bikini Lodge is a great choice. It's located on 7th Street and Collins Avenue, close to all of the action (including some of the best restaurants and nightlife spots).
The rooms are simple but clean, with air conditioning, ceiling fans, cable TV and WiFi. The bathrooms are just as basic—clean but no frills—but they do come with hair dryers. You won't find many amenities here—there's no gym or pool—but there is an outdoor patio area where you can relax in the sunshine amid palm trees and tropical plants.
Impala Hotel
With a rating of 4.5 stars and a price tag of $74, it's hard to argue with the value of this hotel. The Impala Hotel is located in the heart of South Beach, making it easy to explore all that Miami has to offer.
The property features an outdoor pool, gym, and restaurant open for breakfast and dinner. There's also a bar on-site where guests can enjoy late-night cocktails or play billiards between meetings. If you're looking for something more relaxing after all your sightseeing adventures, be sure to check out the lounge area with live music every night from 9 p.m.-1:45 a.m., when they'll have DJs spinning tunes until closing time at 2:30 a.m..
Riviera Suites South Beach
The Riviera Suites South Beach is located at the corner of Collins Avenue and 71st Street in the heart of SoBe. This affordable hotel has been a favorite among travelers since it opened in 1997. The simple, no-frills accommodations are clean, cozy and have all the amenities you need for your beach vacation. There's even a rooftop pool for those who want to catch some rays without having to go far from their room.
The best part about this hotel is its location—it's just stepps away from Lincoln Road Mall where you can find great restaurants, shops, and bars! The price tag? Only $99 per night (prices will vary depending on the season).
Freehand Miami
Freehand Miami is located at 1737 Collins Avenue. It has a 3.5 star rating on TripAdvisor and is within walking distance of the beach, restaurants, bars and more! The hotel offers free Wi-Fi, free parking, and luxury accommodations for $60 per night.
Freehand Miami has a friendly staff that makes you feel right at home. The rooms are clean, spacious and beautifully decorated with modern furniture inside each suite/room as well as a kitchenette so you'll never go hungry when on vacation! There's even an outdoor pool where guests can relax after spending hours exploring South Beach's many attractions or enjoy drinks at their Tiki Bar while listening to live music every Thursday through Sunday evenings until 10pm!
The location couldn't be better since it sits right between Lincoln Road Mall (home to dozens upon dozens of designer shops) along with Ocean Drive which features some amazing restaurants like Nobu 57 Restaurant & Lounge where guests enjoy delicious food paired perfectly with fine wines from around the world along with breathtaking views overlooking Biscayne Bay which makes this restaurant one definitely worth visiting while staying here at Freehand Miami Hotel Boutique!!
LaFlora Hotel
The LaFlora is a comfortable, well-located three-star hotel with basic amenities. Located on Washington Avenue just south of Lincoln Road Mall, it's easy to get anywhere in South Beach from here.
The rooms are small but clean and have everything you need for an enjoyable stay: free Wi-Fi, flat-screen TVs, and decent beds. The pool area is nice for lounging around on a sunny day; however, if you're looking for more socialization (and a better view), we recommend hitting up one of the many rooftop bars nearby instead of staying in at your room all afternoon!
When it comes time to leave your room behind and venture out into Miami's nightlife scene, it's important not only that you feel safe but also that you're not spending all your money on drinks or food—with prices ranging from $5-$50 per drink depending upon what type they are (margaritas/cocktails vs beer) and where they are being served ($50+). Luckily there are plenty of places within walking distance such as Habana Outpost or even farther away like Catch 23 which both offer great drink specials throughout most nights during the week ranging between $10-$15 per person including cover charge & two free drinks per person."
Bars B&B South Beach Hotel
This hotel is a great pick for those seeking an affordable stay - $91 per night. It's located on Collins Avenue, about two blocks from the beach, and has an outdoor pool and hot tub. The rooms are clean and spacious with all of the amenities you'd expect from a luxury hotel in South Beach, including free Wi-Fi and cable TV. Guests rave about how friendly the staff is here and say that it's perfect for families or couples looking to relax after a long day at the beach.
The only downsides are that no pets are allowed on site (though they're welcome at nearby sister property The National Hotel), there isn't any parking available during your stay (you'll have to park in public lots), and some reviewers complained that the A/C didn't work well enough—but these are minor issues compared with what you get for your money here!
The world is at your feet in South Beach, Miami. And there are plenty of options to choose from when looking for the perfect cheap hotel to stay in while you're visiting this sunny paradise. Before choosing which one of these 9 cheap hotels in South Beach Miami is right for you, make sure it has all of your favorite amenities and offers easy access to all of its best attractions. Just remember that some hotels have limited availability or may not be available during peak season so book early for the best price!
Bonus: And if you don't know where to dine in South Beach, we've got you covered! Check out our guide on the 13 BEST restaurants in South Beach Miami!
You might also like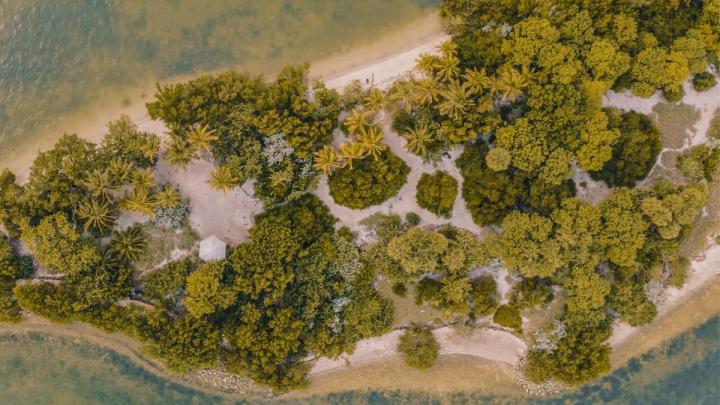 7 Top Islands in Florida to Visit by Boat
Sep 14 2023Guides
Are you ready to embark on a nautical adventure through the stunning waters of Florida? Florida is blessed with an abundance of picturesque islands, each offering its unique charm and allure.
read full post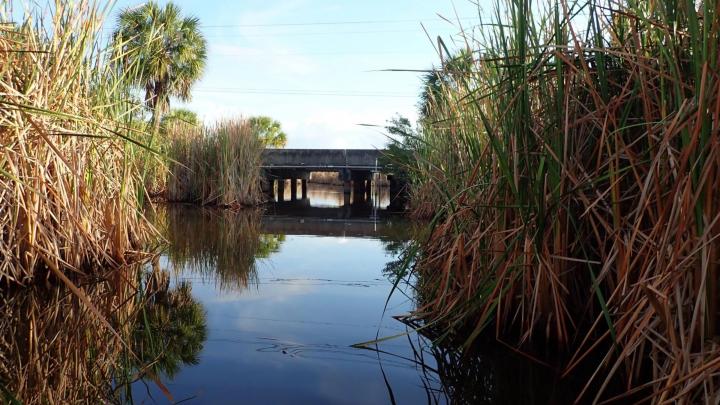 Fishing in Tamiami Canal, FL
Sep 19 2022Guides
Tamiami Canal Florida is considered the best fishing spot in Florida. If you are a fisherman it will not disappoint. It is very popular among local anglers. If you love nature and want to go fishing in the heart of South Florida then this is the perfect place for you.
read full post
7 Best Fishing Spots in Miami
Sep 20 2022Boating tips, Guides
Check out these 7 best fishing spots in Miami. Locations if you don't have a boat, for surf fishing, freshwater spots, and ones off Miami beach
read full post