Circular Economy: Everything You Need To Know
Posted Oct 12 2021 in About sail.me
Have you ever heard of the Circular Economy? It is an environmental mission to keep the economy going strong while vastly reducing landfill and marine waste.
Countries and organizations across the globe constantly work on plans and viable solutions to save the planet, fight climate change, and lower the overall eco-impact of damaging waste disposal practices and pollution.
Our partners from the Clean Ocean Foundation are researchers and advocates for the circular economy. Learn more about it in this article.
What are the circular economy values?
The circular economy is a model of feasible practices in consumption and production. The main values of the circular economy include sustaining existing products and materials as long as possible and extending their life cycle.
The traditional, linear economic model creates over-waste communities. So a break in the pattern is much needed. Retaining materials within the economy is the way to go. Those practices are bound to utterly reduce waste, even when a product expires or reaches the end of its cycle.
Why switch to a circular economy?
Unfortunately, as the world population rises, the demand for raw material goods rises as well, while the supply is limited. The circular economy approach can be the much-needed change in the world, as it allows the consumer needs to be met. All that without unnecessary water pollution and other damaging waste disposal practices.
Extraction, production, and usage of new raw materials require extra energy consumption and cause an increase in CO2 emissions. On the other hand, with a circular approach, the smart repurpose of materials neutralizes those environmental issues.
How does a Circular Economy work?
The circular economy is all about indulging new improved ways to boost sustainability in production and consumption. For regular people that means consistent sharing, renting, reusing, repairing, renovating, and recycling of existing goods and supplies. For industry giants that means huge financial investments and adaptation to new work policies.
But of course, lessening potential eco consequences starts with education. That's why foundations fighting for a circular economy try to work closely with governments and international organizations. Because authorities can address the issues, shed light on the matter, and actually do something to spark a change.
What are the benefits of a circular economy?
There are many advantages that go way beyond the major environmental gains. Here is what circular economy can do:
Slows down water pollution
Limit the eco-impact caused by overuse of resources
Fight against climate change
Stimulate tech advancements and innovation
Improve sustainability in manufacturing processes
Increase security of raw materials supply chain
Provide more durable products of high quality
Increase the overall quality of life
Create new opportunities for sustainable economic growth
What stands in the way of all this happening? Well, often, solving the ecological crisis comes against global corporations' interests.
Affecting the influence and decisions of industry giants is a hard task and cannot happen overnight. But with authority support and effective strategy, the circular economy is bound to change the world.
Is Circular Economy realistic or utopia?
Many people would say it is a kind of utopia. However, embracing a circular economy means leaving the linear economy mindset behind. Change is realistic. But it is possible only with tech innovations, ecodesign, educational initiatives to raise awareness for consumers and corporations, and full support from authorities, ready to enforce new environmental laws.
How to go Circular?
As a consumer who wants to make a change, there are a few ways you can make a small contribution to the cause. Buy recycled goods & products made with recyclable materials and educate yourself to recognize recyclable and non-recyclable products. Repair and reuse everything you can, instead of throwing it away.
Instead of buying fast fashion, go for second-hand clothing or participate in a clothes-swapping event. Support companies and organizations that stand behind the Circular Economy idea. Last but not least, always separate your recyclables and throw your trash only in the designated places.
Clean Ocean Foundation and their Circular Economy mission
Our partners from the Clean Ocean Foundation are members of the Open Cities Alliance, aimed at improving the water cycle by restoring natural systems and eradicating waste. Their goal is to make the circular economy a reality, working towards sustainable advancements in water management in Australia despite the opposing bureaucracies.
The foundation presented papers with applicable solutions at The Australia New Zealand Society for Ecological Economics (ANZSEE).
Their research claims circular solutions can be calculated as an estimated $210 billion economic benefit to the GDP. Also, the circular economy has the potential to open 17,000 job positions in Australia only.
sail.me loves good causes and stands behind the Clean Ocean Foundation's effort to free the ocean from pollutants and vastly increase the environmental responsibility of influential corporations.
You might also like
BoatTalks - sail.me & BoatTest Interview
Feb 11 2022About sail.me
We joined Captain Steve from boattest.com to give some insights about the sail.me boat rental platform and its features!
read full post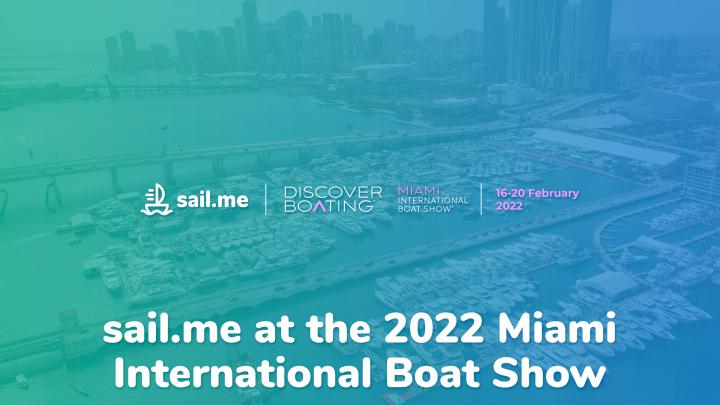 sail.me at the 2022 Discover Boating Miami International Boat Show
Mar 01 2022About sail.me
We're thrilled to announce that sail.me will be featured at one of the largest boat and yacht events in the world - the 2022 Discover Boating Miami International Boat Show!
read full post
Lisa Blair – Sails the World
Oct 12 2021About sail.me
The road to environmental change is long and challenging. And not always on land. Just like in the case of Lisa Blair - the woman, who embarks on solo sailing adventures around the world and collects vital data on marine pollution and ocean health.
read full post