Sarasota Boating Guide
Posted Dec 08 2021 in Guides
Looking for a way to make the most of your Sarasota boating trip? With this helpful guide by Sail.me you can find more information on the best spots to visit by boat, local experiences not to miss, and genuine advice on renting a boat.
Learn more about Sarasota boating and plan a journey of a lifetime:
Things you need to know before you rent a boat in Sarasota
Just like any other boat rental experience, when you rent a boat in Sarasota, there are a few things you need to know beforehand. Such as the age restriction for boat operation and boat rental, the average cost of a vacation on the water, and the overall water and weather conditions during your journey.
Yacht and boat rental costs in Sarasota
The cost of renting a boat in Sarasota starts at $300 per day for small boats. Price can go up to $5000 per day for luxury yacht rentals and charters. For a half-day trip, you can find more affordable options. For longer vacation periods, you may be able to negotiate a discount.
Usually, prices vary depending on boat size, season, availability, and day of the week. Small boats accommodate fewer passengers but are cheaper, while large boats can host bigger parties but can cost a ton.
Summer in Sarasota is very busy, thus the higher boat rental prices. During the weekend and public holidays, prices tend to slightly go up again due to higher demand.
Sarasota age restrictions for renting a boat
The main requirement to be able to charter or rent a boat with a captain in Sarasota is to be 18 years of age. If you want to operate a charter by yourself, you must be 25 years old and pass a Boating Safety Education course in Florida. The Boater Education Card will serve as a boating license.
Sarasota weather and sailing conditions
Sarasota boaters can enjoy summery weather and Florida sunshine all year round. Thanks to the sub-tropical climate, winters are mild but still quite warm and welcoming. The hottest and most humid months are from June to September. But no matter when you visit, chances are you will get perfect conditions for sailing. (Unless it's raining.)
Thunderstorms in the afternoon are normal for the Sarasota summer. So before you head out to sea, frequently check the forecast and make sure you get on land if any storms are approaching. Also, note that the hurricane season in Sarasota runs from June to November. Luckily, forecasters predict typhoons weeks in advance.
Best locations for boating in Sarasota
Once you rent a boat, you can stay and explore the waters of the beautiful Sarasota Bay or take a trip to the Longboat and Siesta keys for an even more memorable voyage. All the Sarasota hotspots have their own charm, so pick your favorite or explore the entire area by boat to get the most out of your trip.
Sarasota Bay
Sarasota Bay is one of the most scenic spots to visit by boat in the US. The picturesque bay is a hotspot for sailing, captivating with deep blue waters, abundant wildlife, and amazing white sand beaches. The place is ideal for fishermen, wildlife photographers, sunbathing enthusiasts, and those seeking wonderful views.
Osprey Pier
The Osprey pier is a magnificent place to boat around without heading too far from shore. You can get there with your Sarasota boat rental to explore the surrounding waters and sandbars. The nearby grass flats and the pier beach are great places to see birds and wildlife, capture majestic photos, and net fish.
Siesta Key
Tourists from all across the globe travel to the Sarasota region just to spend a weekend at the magnificent and pristine beaches of Siesta Key. The best thing is, the key is accessible by water. All you need to do is anchor the boat rental offshore and have a fun beach day.
Longboat Key
Located in between the Gulf of Mexico and Sarasota Bay, the Longboat Key offers the best of both worlds. The area is famous for its scenic beaches and wonderful architecture, which you enjoy from the comfort of your boat rental. Or why not anchor the boat and go spend a few hours at one of the most expensive places to live in the sunshine state.
Best Sarasota boating experiences
Rent a boat in Sarasota and you will not be disappointed. The Gulf of Mexico has a lot of boating experiences in store for those seeking adventure on the water. Here are some of the best boating activities to enjoy on your boat trip in Sarasota Bay and the local keys.
Fishing by boat
The constant hot weather is a premise for permanently warm water. And warm waters are usually full of thriving sea life. That makes Sarasota a favorite fishing destination for professional anglers.
In the bay waters and around the local shipwrecks, you can fish for cobia, tarpon, amberjack, barracuda, and grouper. Exotic catch like dolphins and sharks is a common occurrence. The area is also known for some of the best deep-sea fishing in the country, but you need to be out in the water from early morning.
Diving and snorkeling
Sarasota has amazing diving spots for beginners and pro divers. The only thing expected of you is to enjoy the view and not to disturb the underwater habitats in any way.
Point of Rocks is acknowledged as the ultimate location for snorkeling in Sarasota. The flat limestone rock structures are located near Siesta Key's Crescent Beach. The calm shallow waters full of diverse underwater flora and fauna are welcoming to divers of all levels.
Longboat Key is another clear water hotspot for snorkeling and shell searching. The area is good for spotting hermit crabs, eels, and reef fish. It is also a dolphin hangout, so if you want to see dolphins - this is the place to be.
Other good places for diving are all the seagrass meadow areas - a mix of beautiful underwater landscapes and thriving marine life. You can spot fish nurseries, and see spotted seatrout, ladyfish, pinfish, turtles, and manatees up close. The balanced ecosystem and abundance of wildlife also attract a lot of predatory fish and looting animals.
Shipwrecks discovery
If you love to explore underwater wrecks, Sarasota has a few spots you can sail to on your boat rental. They are located just offshore and are a top choice for fishing and professional diving endeavors. The shipwrecks can be found near the Venice, Osprey, Nokomis, Longboat Key, and Siesta Key coastlines.
Sandbar exploration
Boat around the Sarasota Bay channels to find beautiful sand isles, formed by currents and waves. Beer Can Island is one of the big ones, and it's formed right outside of Longboat Pass. The other sandbars can be located east of the delta and along the northern edge of the Big Pass channel.
The best time to spot and visit the sandbars is during low tide. That's also the right moment to pull the boat on the sand and anchor it. Then turn up the music, take out the picnic blanket, sunbathing chairs, or/and beach towels to chill on your temporary "private" island.
Watersports
When it comes to watersports in Sarasota, note that Skiers' Island is the only officially designated area for watersports in the bay. That area allows speedboats to reach the optimum speed for an extreme water experience.
Skiers' Island is perfect for wakeboarding, waterskiing, jet skiing, and riding inflatables. To access by boat, head south of the North Bridge leading to Siesta Key.
Paddle trails
Take a break from sailing and switch your boat rental with a smaller more escapade-style boat. With scenic paddle trails through the mangrove thickets and waterways, Sarasota is a great place to go on an adventure and improve canoeing and kayaking skills.
Rent a kayak/canoe to roam freely in the channels or get a professional guide to show you around and keep you on track. The twelve designated paddle trails (inland and along the bay) showcase the beauty of Sarasota's nature and will leave you yearning for more adventures on the water.
Wildlife watching
Sarasota region is all about wildlife photography, sea life watching, and bird watching. And what a better way to catch a glimpse of local wildlife than on a boat!
Some of the birds you can spot while boating include ospreys, kingfishers, and blue herons.
Dolphins can be spotted in their natural habitat in the shallows and near the key bridges, especially near the southern bridge to Siesta. In the bay, you can often see stingrays near the surface, as well as small sharks.
The only area you are not allowed to access is the Bird Colony Islands in Roberts Bay. But the good news is that even from a distance, you would be able to see and capture wonderful shots of the island's wild inhabitants.
Dock and dine
Of course, no voyage would be completed without a dock and dine pause on land. Lands End Marina is a top boat stop for Sarasota sailors wanting to get a delicious meal. The waterfront marina is home to numerous pubs and restaurants, offering local seafood for everyone's taste.
You might also like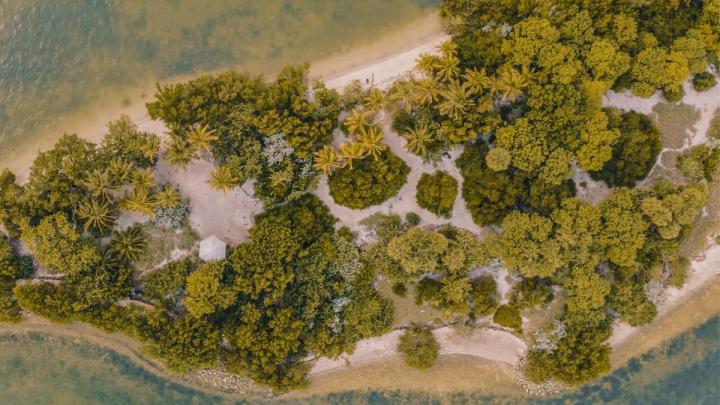 7 Top Islands in Florida to Visit by Boat
Sep 14 2023Guides
Are you ready to embark on a nautical adventure through the stunning waters of Florida? Florida is blessed with an abundance of picturesque islands, each offering its unique charm and allure.
read full post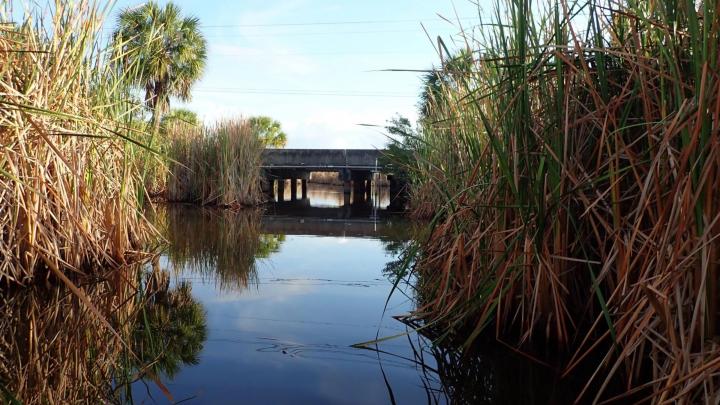 Fishing in Tamiami Canal, FL
Sep 19 2022Guides
Tamiami Canal Florida is considered the best fishing spot in Florida. If you are a fisherman it will not disappoint. It is very popular among local anglers. If you love nature and want to go fishing in the heart of South Florida then this is the perfect place for you.
read full post
7 Best Fishing Spots in Miami
Sep 20 2022Boating tips, Guides
Check out these 7 best fishing spots in Miami. Locations if you don't have a boat, for surf fishing, freshwater spots, and ones off Miami beach
read full post