10 tips for boating with your dog
Posted Jan 10 2022 in Guides
Are you one of those dog owners who seek pet-friendly activities? Then surely if you go on a boat adventure you would want your furry friend to be around.
At sail.me, we understand dogs are a part of the family and they also deserve to have a fun day on the water with the rest of the 'pack'. That's why we created this short guide with everything you need to know when boating with your dog.
Preparations for sailing with your dog
Check with the boat owner or boat rental company
It is wrong to assume every boat is dog-friendly. When you are not the owner of the boat you plan to sail on, it makes sense to contact the owner or company first, to check if they permit pets aboard. In case dogs fit into their boat rental policy feel free to bring your pooch along.
Arrive early and examine the boat
Make sure to arrive at the dock early because some dogs would be cautious and hesitant about getting on board. Some doggies need a little persuasion, reassurance, or a few tries to become comfortable enough to get on the boat. That way, there would also be enough time for the dog to settle in and get cozy before the boat sets sail.
In a way, dogs are similar to children, so it is essential to examine the boat and secure it before leaving the port. Allocate all weak points where your dog could fall overboard or jump in the water. Then you need to secure them and you are good to go.
Bring supplies
Another important prep tip for boating with dogs is to bring enough supplies, such as:
Food and water are basic supplies to fulfill your dog's basic needs. No matter if you sail in saltwater or freshwater, it could be contaminated. With that in mind, do not let your dog drink anything but the tap water you brought with you from home.
Treats would help your pet feel at ease during the boat trip. They make a great consolation prize if the pup gets scared or stressed by the waves, rocking motion, or loud noises. Treats are also a persuading element to get your dog back on board if it jumps in the water.
Consider weather and water conditions
Jumping in the water sounds like a super fun activity for any dog on a boat. But before you let your furry friend jump, take into consideration a few things:
Swimming ability
Fast dog exhaustion (due to age, disability or illness)
Weather conditions (wind, temperature, clouds)
Water condition (depth, currents, size of waves)
Analyzing all these factors should help you determine if allowing your dog to swim is a good idea. Sometimes jumping in the water could be really dangerous even if the pup has a lifejacket on.
In case the conditions seem safe for a doggy swim, make sure to have a ramp set up so your dog could climb back on board easily.
What to do if your dog goes overboard?
When you have a dog on a boat, you have to be prepared to act in case of an emergency. So if your dog falls or jumps overboard, what should you do? There are a few steps to take to handle the situation and avoid a serious dog accident.
If your dog jumps or falls overboard, cut the motor engine instantly! Stay calm to prevent further stress for the already confused pet. Do not jump in the water to save your dog. Instead, reach down and pull the dog back on the boat.
In case the current is strong and the dog is getting further away, throw a lifebuoy so it can hold on to it and you can pull it closer to the vessel.
More tips for a smooth boating trip with your dog
Life jacket for the dog
Safety precautions to prevent accidents and drowning should be a priority. So when taking your pet on a boat, make sure it has a dog's life jacket on during the entire duration of the trip.
Make sure the dog life jacket is the right size. Put on and secure the life jacket before you sail from the shore. By doing that you ensure your dog would be safe it gets scared or anxiously tries to wiggle away.
Designated dog space
Let your dog have its own spot to settle in and relax on the boat. That would ensure your dog won't distract the driver of the vessel or cause chaos with random zoomies and unexpected jumps overboard. It's also a good way to make sure your beloved pet would be cozy and comfortable during the trip.
Sun protection
If you are sailing on a warm sunny day, your pet can easily overheat if left exposed to the sun for a long time. Thus, you need to ensure the boat has a shady area where the doggy can cool off and recharge.
Potty breaks
Let's not forget dogs have sanitary needs. Even when sailing you have to be thoughtful and responsible, so plan your boat trip with potty breaks. The best places to take your pet for a short walk to relieve themselves are an island, sandbar, or a dog-friendly beach. Get bags to pick up after your dog and dispose of their waste accordingly.
Dog entertainment onboard
Just like humans, dogs can get bored. And during a boat trip, it's not always easy (nor wise) to give your pet your full attention. That's why it is always a good idea to bring some quality entertainment onboard.
Chew bones, squeaky toys, ropes, and your dog's favorite toys would do the trick. They would keep your pooch busy while you drive the boat, prep gear, or run chores.
Dog leash on the boat
Having a dog leash onboard is a must. Not only you will need it when your dog needs to go on a potty break, but also if you decide to have a beach day or dock the boat at an alluring location.
When boating, chances are you will discover a hidden beach, secret cove, a historical island, or a national park that's worth exploring. Let's not mention the cute coastal cities with great dock-and-dine restaurants. That's why you need to have the leash around, to take your dog on land when needed.
Before you rent a boat…
In most cases, boating with a dog tends to be a fun and joyful experience. However, have in mind some dogs would not enjoy the water. Nor feel good about being out at sea. For that reason, before you book a boat consider your dog's character, preferences and try to assume if they would be thrilled or terrified to go on a boat.
It is important not to pressure your pup into doing things that stress it out or make it anxious. So if you have a skittish dog, better reconsider bringing it on a boat. If you believe your dog would really enjoy a voyage, you can start booking an animal-friendly boat with sail.me!
You might also like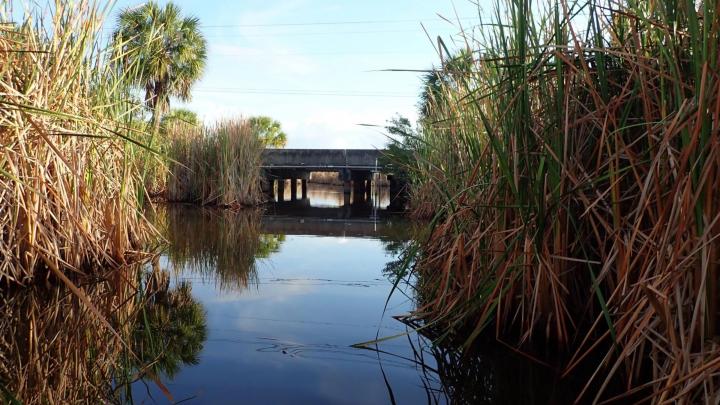 Fishing in Tamiami Canal, FL
Sep 19 2022Guides
Tamiami Canal Florida is considered the best fishing spot in Florida. If you are a fisherman it will not disappoint. It is very popular among local anglers. If you love nature and want to go fishing in the heart of South Florida then this is the perfect place for you.
read full post
7 Best Fishing Spots in Miami
Sep 20 2022Boating tips, Guides
Check out these 7 best fishing spots in Miami. Locations if you don't have a boat, for surf fishing, freshwater spots, and ones off Miami beach
read full post
Miami Bachelorette Party Boat Guide: All You Need To Know
Jul 14 2022Guides
Our Miami bachelorette party boat guide covers all you need to know, from boat rental to the types of boats, what you need to take, budget costs & more!
read full post