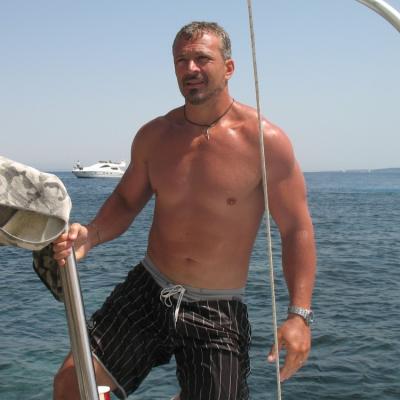 Andrea
CATAMARANO ALLE EGADI
Description
Il catamarano dispone di 4 cabine di cui una sarà a disposizione dell'equipaggio.

Esclusi dal prezzo:
- Cambusa
- Carburante
- Ormeggi e Porti (escluso Marsala che è compreso)
- Ingresso Parco Marino Egadi (opzionale)

- IMBARCO Sabato dopo le 17:00
- SBARCO Sabato entro le 09:00
Performance & Comfort:
Costruito in Sud Africa e nato dalla stretta collaborazione tra Robertson e Caine e Morrelli e Melvin (progettisti di catamarani da record mondiale come PlayStation), questo catamarano rappresenta una perfetta combinazione di performance e comfort, grazie anche ad un deciso restringimento della sola parte immersa degli scafi e ad un generoso piano velico. Altre caratteristiche interessanti includono un sistema di ancoraggio di prim'ordine, una comoda gru per tender con verricello elettrico e due motori diesel da 30 HP per buone prestazioni anche a motore.
Il Pozzetto:
Il Leopard 38 dispone di un ampio pozzetto con una zona pranzo esterna e una seduta ergonomica versatile per il massimo comfort; questa disposizione rende la poppa della barca estremamente vivibile, creando una "terrazza sul mare" dalla quale potersi godere il panorama, sorseggiando un drink con i piedi in acqua e vivere le soste in rada a stretto contatto con la natura.
Un funzionale bimini hard-top protegge l'area del pozzetto e la postazione del timone, dove si trovano tutti i comandi principali della vela.
La Prua:
A prua vi è una comoda e spaziosa rete che permette di rilassarsi al sole, oppure di godersi l'andatura a stretto contatto col mare. I due ampi gavoni antistanti la vetrata della dinette oltre ad accogliere due serbatoi per l'acqua dolce, forniscono un supporto per una comoda lettura in relax, o uno spazio per un ballo al tramonto.
La Dinette:
Il design della dinette incorpora una spaziosa area del salone, con un ampio tavolo circondato da una lunga e comoda seduta ed una cucina rivolta a poppa con una finestra di servizio che si affaccia sull'adiacente area del pozzetto. Le ampie finestre verticali anteriori forniscono un'eccellente protezione dal sole e dalla pioggia e hanno permesso ai progettisti di massimizzare il volume interno nell'area del salone, con un'altezza di 1,95 m.
Crew

Rules & cancelation
Cancelation policy: Stern
View detailed
COVID-19 Safe Cancelation Policy
Considering the new one season 2022, we want to propose you a new and more flexible policy in order to push our clients to dream and book their holidays despite this period of uncertainty. So we are applying a TOTAL REIMBURSEMENT OF THE AMOUNT PAID only if the clients will have to delate the reservation in case of restrictions related to Covid-19. So, please note that the total refund will be due only if one of these situations happen: • Lockdown in the country of charterer's provenience or in the country of embarkation at the date of the departure; • Mandatory quarantine in the country of charterer's provenience or in the country of embarkation at the date of the departure; • Travel ban issued by the government of the country of charterer's provenience on the country of embarkation at the date of the departure Please, note that this policy can be modified, if the pandemic situation gets over.
Location
Usually, this boat operates around Marsala, Italy. Exact location provided after booking.
Captain
included
Fuel
not included
You can pay for this boat at once or in installments.
or message owner